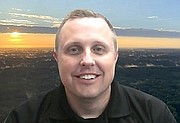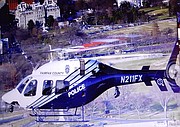 In his 29th year with the Fairfax County Police Department, Capt. Mike Shamblin has headed the Helicopter Division for a year. And he recently addressed an online meeting of the Sully District Police Station's Citizens Advisory Committee to discuss the police helicopters and drones.
"We have two Bell 429 helicopters, and we do both police and Medevac missions," he said. "We can also fly in areas where other aircraft are restricted. We're a 24/7, 365-day operation; the only time we can't fly is because of bad weather."
The division started in 1983 when a local businessman donated the helicopters to the Police Department. And Inova flight nurses flew with the police until the 1990s, when the police took over operations completely. Now, it Medevacs victims of car-crashes and traumas to Inova Hospital and burn victims to MedStar Health in Washington, D.C.
"We're normally based at 4604 West Ox Road [in Fairfax]," said Shamblin. "But we're currently housed at the Manassas Regional Airport until we can get our new, larger hangar built. It's due to open in mid-April 2022. We've been there since July 2020, and it's just a six-minute flight from there to the old hangar."
He said they have a combination of police and civilian pilots. There are 12 full-time paramedics – all sworn police officers, plus six full-time pilots who are mostly civilians. And their helicopters are the only law-enforcement aircraft in Northern Virginia.
"We fly about 1,500 missions a year," said Shamblin. "About 70 of them are Medevacs – we fly at least one Medevac per week.
MEDEVACS are our number-one priority; police missions are second. We'll leave police events to do Medevacs, and we'll leave events in other jurisdictions to do an event in Fairfax County. Our paramedics have even more training than Fairfax County Fire Department paramedics, so we can provide advanced, lifesaving techniques that they can't."
He said their helicopters are dual-engine aircraft and "are safer that way, in case there's a problem with one of the engines – which happened recently. Our maximum cruise speed is 155 knots, which is about 175 mph. They each weigh 7,000 pounds and have a range of 400 miles. We often fly to Roanoke for routine maintenance and to Salem for major repairs. And the camera mounted on the front of the aircraft has video and night vision."
"Our helicopter program is extremely valuable to the county," said Sully District Station Commander, Capt. Jason Allegra. "And it's an important asset in keeping our officers and community safe."
In addition to helicopters, the Police Department began flying UAS (Unmanned Aerial System), or drone, missions in 2019; and by 2020, it had 30 trained UAS pilots. Police have legal authority to fly missions in Virginia as law enforcement. They're also permitted to operate in national airspace in a particular location.
THEY MAY USE DRONES under the following conditions:
With a search warrant; to serve a felony arrest warrant at a wanted subject's primary residence; when in hot pursuit of someone actively sought for an arrest; when there's an amber, senior or blue alert; to investigate a reportable traffic crash; in a location where they have consent to be; for training pilots and evaluating equipment; and to "alleviate an immediate danger to any person," such as a missing, endangered person; suicidal/homicidal person; barricaded/armed suspect; active shooter; explosive ordnance disposal; fleeing suspect considered armed and dangerous; and incidents involving hazardous materials.
"We currently have 12 drones," said Shamblin. "Our SWAT team has six; the Technical Investigation Unit, one; Fugitive & Apprehension, one; Crime Scene Unit, two; and Helicopter Search & Rescue, two. These drones can help clear a building [to make sure it's safe for police to enter]. And some can be used to help find missing persons."
His assistant commander, 2nd Lt. Brian Bowman recommended that people wanting more information go to the FCPD Website and search for UAS. All their drone activity is logged on there, as well as lists of what the drones can and cannot do.