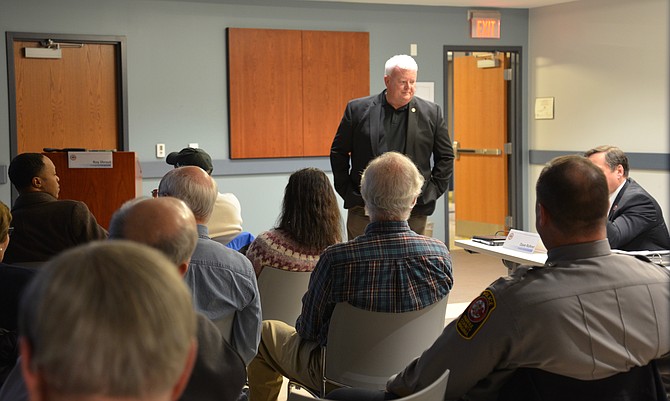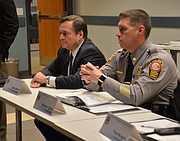 Fairfax County emergency management personnel want to add unmanned aircraft systems – more commonly known as drones – to their toolkit of resources. In May of 2017, they began the process, gathering information and stakeholders and putting pens and calculations to paper to outline their reasoning before taking their preliminary findings and recommendations to the Board of Supervisors in January of 2018.
At that meeting, the Board deferred any decision until a task force was formed to address all ancillary issues and public input could be sought.
To date, that task force, which includes the departments of Emergency Management, Public Affairs and Legal, the County Police, Fire and Rescue, the Fairfax County Park Authority, local drone organizations and representatives from the American Civil Liberties Union (ACLU) and the Audubon Society among others, has met twice, and has a third meeting scheduled on Feb. 19.
Public information and feedback sessions have also begun, with the second meeting taking place on Jan. 22 at the McLean Governmental Center. In total, 6 public presentations are scheduled throughout the county, and feedback received through the close of business of Feb. 8, 2019, will be included in the official public record that is planned for presentation to the Board's Public Safety Committee on March 12.
AT THE MCLEAN EVENT, Dranesville District Supervisor John Foust gave opening remarks praising the preparatory work done by Roy Shrout and his gathered colleagues. Shrout is the deputy coordinator for the Fairfax County Office of Emergency Management and the manager for the drone program. Foust credited Shrout and company for the thoroughness of their efforts, the inclusion of so many viewpoints and areas of expertise in the task force, and for the transparency that the group maintains with county officials, interested stakeholders and partners, and with the public.
Shrout was the headliner at the meeting, supported by Dave Rohrer, deputy county executive for public safety.
Shrout and Rohrer said that the program, and the 40+ page draft "UAS Program and Operations Manual" (available online on the county's website) are just that – drafts.
"Nothing is approved yet," said Shrout. Taking best practices from around the country and from the other 25 programs already in operation in Virginia – including in Loudoun and Stafford counties – "with the work of the task force and feedback from our citizens, we hope to secure the approval of the Board and be operational later this year."
Shrout said the discussion was about the use of drones by emergency management and law enforcement, not public recreational activity, although a planned half-day drone session tentatively scheduled for the Fall if the program is approved, would include information about the private use of drones in the area.
Shrout and Rohrer made a case for using drones for public safety.
COST SAVINGS is just one factor.
Comparing the price of just one helicopter at around $1 million, versus a drone at about $1500, makes a fleet of drone equipment appear affordable.
Shrout also lists operational capability, safety, live streaming ability and the enhanced level of documentation possible, as reasons to add drones as an option.
"Just think of what we could do, more safely and more efficiently?" said Shrout, going on to name just a few of the circumstances in which drones could be invaluable.
Natural disaster and severe weather surveillance and documentation
Crash reconstruction from all angles and high definition
Search and rescue missions where "the drone can perform a programmed grid search to find a missing child or endangered adult"
Hazardous materials incidents investigations
Highway, stream and stormwater systems management
Wildlife management
Active shooter or other dangerous situations where the drone could get a closer look, without endangering law enforcement personnel
Fire investigation and fighting, again, providing significant amounts of data, with less risk to personnel
Unmanned equipment could be used to inspect infrastructure, checking power and gas lines, bridges, levees, roads, and more for damage or potential failures.
Shrout and Rohrer assured attendees that drone usage would be for "targeted use, not random surveillance activity."
The two men reported that privacy and civil rights were given priority when developing the draft operational manual and that there are related UAS laws already on the books, including the requirement of a search warrant in most instances in order to use UAS for law enforcement and public safety purposes.
"The ACLU has been a great resource and partner, helping to consider the public's rights in all aspects of UAS usage," said Rohrer.
The program would not be used to "target a person based solely on individual characteristics, such as, but not limited to race, ethnicity, gender, national origin, religion or disability" or to "harass, intimidate or discriminate against any individual or group or conduct personal business or any other unauthorized use."
UAS pilots would require extensive training and be fully certified as required by law. The draft program is calling for a 3-person operational team for safety, with one operator, one observer, and one person who would maintain situational awareness.
At the McLean meeting, attendees expressed interest and generally approval for the proposal. A few questions, mostly related to personal drone use were asked, and a few suggestions were made on topics that could be included in the planned media/training even.
The complete draft manual and information about the proposed program are available at www.fairfaxcounty.gov/uas. The public is invited to provide feedback on this webpage by Feb. 8, for inclusion in the public record, although "your comments are always welcome at our email address UAS@fairfaxcounty.gov," said Shrout before the meeting concluded.