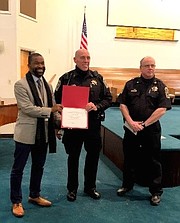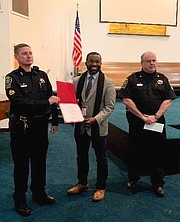 On Wednesday, Feb. 17, 2021, the Town of Vienna honored MPO Kenny Smith and Officer Dale "Chip" McElhattan for their life-saving effort during their encounter with a driver who had been in an accident. While the officers discussed the accident with him, the male driver collapsed on the pavement, in cardiac arrest, not breathing. MPO Smith and Officer McElhattan immediately jumped into action, rendering CPR and re-establishing a pulse and breathing. Shortly after, the driver stopped breathing again, and officers worked tirelessly administering CPR until EMS arrived on the scene and took over the life-saving care. The driver was transported to an area hospital where he was cared for and stabilized.
Vienna Police Chief James Morris and Town Manager Mercury Payton presented the officers with the life-saving awards. Attending the event were H.R. Director Michelle Crabtree, H.R. Assistant Conor Duffy, colleagues, friends, and family.
MPO Smith and Officer McElhattan have also been nominated for the Greater Reston Chamber of Commerce Valor Award, which recognizes public safety employees' actions beyond the call of duty.