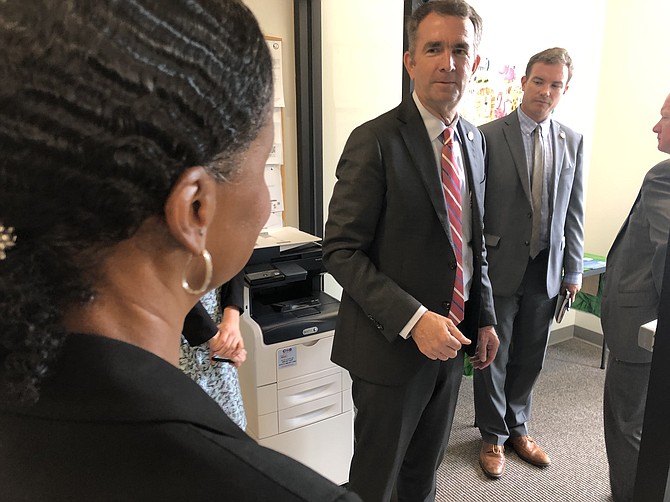 The debate over legalizing marijuana is about to light up, putting Gov. Ralph Northam at the center of a budding controversy. At issue is a question of timing. Should he agree with lawmakers that legalization should wait until New Years Day 2024, giving the commonwealth enough time to stand up the new Cannabis Control Authority? Or should he amend the bill the General Assembly put on his desk to legalize weed now to prevent communities of color from being overpoliced in the interim?
"The governor has been talking about reparative justice for the communities and individuals harmed by the war on drugs and racially biased policing," said Ashna Khanna, legislative director for the ACLU of Virginia. "A way to make that lip service reality would be to enact these changes now and stopping the harm of marijuana prohibition."
Last weekend, lawmakers emerged from a closed-door conference committee with a compromise bill that has angered many of the governor's allies. Crafted in secret, the conference report put legalization on hold until a new regulatory agency can be created and commercial licenses issued. Advocates have been calling on lawmakers to separate the date of legalized possession and the start of commercial sales, but lawmakers who were part of the conference committee disagreed.
"This is better than nothing at all. What's not progressive is to sit on our hands and do nothing."
— House Majority Leader Charniele Herring
"There's no legal marketplace. It would just be the illicit market," said state Sen. Adam Ebbin (D-30). "We want to create a marketplace that has products that have been tested and not have additives and make sure that the people we're selling to have been ID'd to make sure they're 21 and older."
THE ALEXANDRIA DELEGATION is at the center of the debate. The two lawmakers leading the secret talks over the weekend were Ebbin of Alexandria and House Majority Leader Charniele Herring, who also represents Alexandria. Members of the conference committee determined that the best course of action would be for marijuana to remain illegal for now, still subject to civil fines and penalties. They also slapped a re-enactment clause of the regulatory parts of the bill, forcing lawmakers to consider that aspect of the legislation again when they meet next year.
"This is better than nothing at all. What's not progressive is to sit on our hands and do nothing," said Herring, who introduced the decriminalization bill last year. "At least we have a date in stone. At least we are standing up the authority and starting to promulgate regulations, and so it is a product that we can work with."
Advocates say the final few days of secret negotiations were rough, and the process was in danger of collapsing at several points. So the fact that lawmakers put something — anything — on the governor's desk this year is a victory of sorts. As governor, Northam has the power to amend the bill almost any way he sees fit, and he has until the end of this month to take action. That means he's now being lobbied heavily by advocates for criminal justice reform to legalize marijuana as soon as possible instead of waiting for the business dynamics to materialize.
"I'm extremely disappointed that we legislated business before justice," said Chelsea Higgs Wise, executive director of Marijuana Justice Virginia. "The governor said that this bill was supposed to prioritize racial equity but it's clear that it only prioritized a cannabis profit industry."
THE GENERAL ASSEMBLY session began with Northam calling on lawmakers to legalize marijuana, building on momentum from the decriminalization bill he signed into law last year. During his State of the Commonwealth address, the governor framed the move as an acknowledgement that Virginia's criminal justice system treats people unfairly. He used his speech to spotlight some statistics showing Black people are three and a half times more likely to be charged with marijuana crimes and four times as likely to be convicted.
"It's time to join 16 other states and make marijuana legal, and end the current system rooted in inequality," said Northam in a speech delivered in a House chamber that was mostly empty because of pandemic precautions. "We've done the research, and we can do this right away, leading with social equity, public health and public safety."
But the legislation the governor sent to Ebbin and Herring did not call for action right away. Instead, the governor's timeline called for legalization to wait until commercial sales begin. Advocates who worked with lawmakers during the tense negotiations said the governor's office maintained that position throughout the process, leading to an end result that delays legalization until New Year's Day 2024. That means that the governor is now hearing from people urging him to change his position on the timing of legalization.
"He certainly does have the power to make that or any other recommended amendments, however the administration is the most ardent supporter of keeping those two dates connected," said Jenn Michelle Pedini, executive director of Virginia NORML. "The date of legalization, meaning personal possession and personal cultivation, need not be tied to the date or retail sales. That's been our position throughout, and that's still our position today."
Disproportionate Policing
A series using public-records requests, court documents and interviews to show how communities of color are overpoliced in Alexandria
CRIME STATISTICS show worries about disproportionate policing is not an academic concern. According to the Alexandria Police Department, 64 percent of people arrested in Alexandria for drug arrests in 2019 were African American. Almost half of those arrests were Black males. Despite comparable usage rates, Black people are 3.4 times more likely to be arrested for marijuana possession, according to a recent report from the American Civil Liberties Union, which also found that arrests for possession of marijuana make up about 52 percent of drug arrests.
"Even the thought of business before justice is hard to stomach," said Del. Cia Price (D-95). "Some of my constituents are in jail right now and more may be sent to jail while we are establishing a regulatory authority for the business pieces."