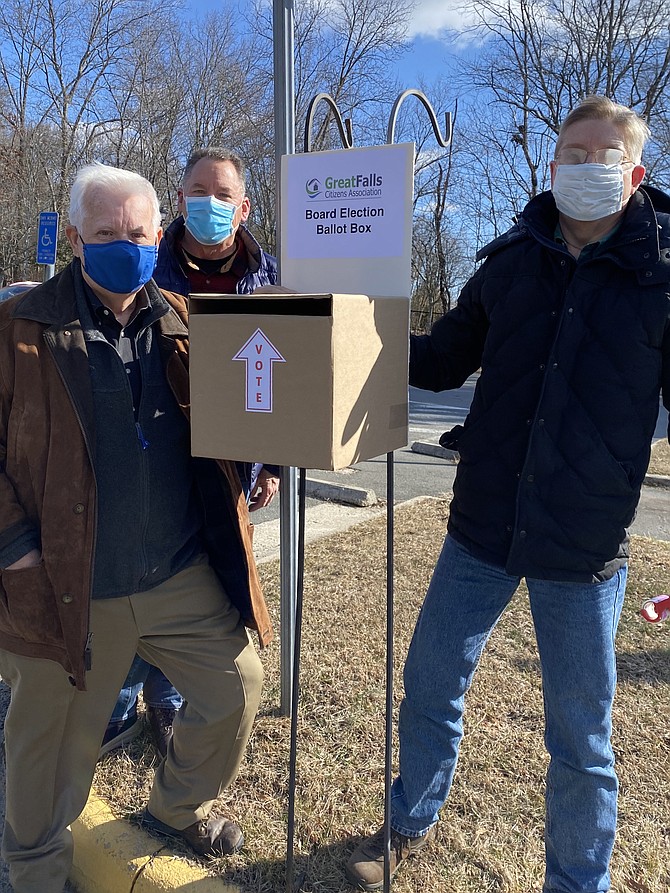 Members of the Great Falls Citizens Association (GFCA), voting in the special drive-in-person election of the Executive Board and Officers held March 6, 2021, unanimously re-elected eight candidates and one new candidate. More than 90 percent of the voters endorsed two special questions. The GFCA Nominating Committee/Board and GFCA membership proposed the ballot of candidates. Ed Phillips, outgoing GFCA Vice President said that a quorum was required to make the results official.
James M. Trent, GFCA Treasurer and Chair of the Nominations Committee managed the election held in the Great Falls Library parking lot and reported the official outcomes.
Elected for one-year terms (3/21-6/22), Bill Canis won the President's seat, Peter Falcone, the Vice President's seat, and James Trent, the Treasurer's seat.
Elected to fill her first two-year Director term (3/21-6/23) is Suzanne Black. Re-elected Directors for two-year terms (3/21-6/23) are Ruth Carver, Jennifer Falcone, Gordon Harris, Scott Knight, and Ed Phillips.
GFCA members voted on two special questions on the March 6 election ballot. Voting members endorsed 91 percent to 9 percent, Question 1, the requirement for in-person voting for the Executive Board and Officers be removed (from Article 5.1.5 of the By-Laws) by striking the words: "The annual Executive Board and Officers election is excluded from electronic voting."

Voting members endorsed Question 2, 96 percent to 4 percent, agreeing that the GFCA annual budget is maintained at its 2019/20 level of $25,400 until in-person town hall membership meetings resume or as otherwise agreed by a membership vote.
Trent said that the new drive-in-person voting process for the election proved very successful, more than double the usual turnout.
According to the GFCA website, the association canceled its usual June 2020 in-person election due to the Covid-19 pandemic. To move forward as the pandemic continued, GFCA developed the new drive-in-person voting procedure that replicated its usual in-person voting procedure and satisfied its Bylaws requirement for in-person voting and protected the health of members.
The Great Falls Citizens Association is an all-volunteer, non-profit 501(c)4 organization that advocates solutions and government actions that benefit Great Falls. Their charter calls for GFCA to "serve as a community organization to promote all aspects of community interest accruing to a common good and, in general, to preserve the historic, low density, semi-rural character of Great Falls and its natural resources."