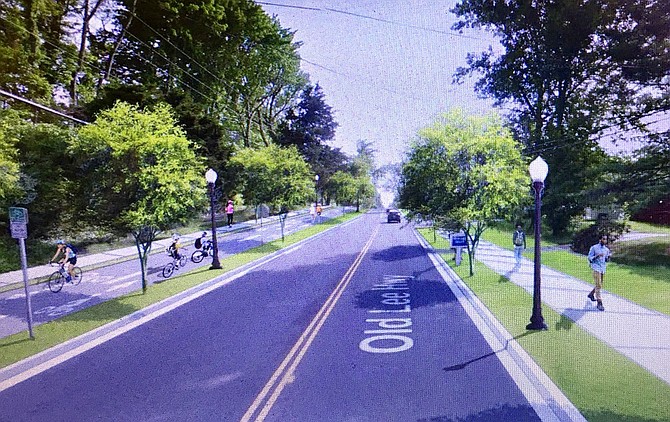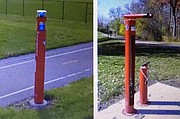 "Multimodal" means the variety of ways people travel in an area, such as by car, bus, bike, scooter or on foot. And the goal of Fairfax City's Old Lee Highway Multimodal Improvements Project is to provide continuous and consistent multimodal connections along Old Lee Highway from Old Town to Fairfax Circle.
It also aims to increase safety for all roadway users and repurpose excess pavement, while promoting alternative means of reaching the City's library, Van Dyck Park, Sherwood Community Center, schools, places of worship, police department and commercial businesses along that corridor. And the City Council has already committed to keeping the existing travel and turn lanes, plus adding bicycle and pedestrian infrastructure.
When finished, Old Lee will have 5-foot-wide sidewalks; curb and gutter on both sides of the road; 10-foot-wide separated bike lanes only on the north side; consolidated crossing locations with consistent signage; reduced crossing widths on the side streets; and improved lighting and landscaping.
AN ONLINE MEETING was held, Feb. 17, to update the project's stakeholders on the latest development. Speaking were City Transportation Director Wendy Sanford; Ken Ray, deputy director of Landscape Architecture at Toole Design; and Mark Gunn, director of engineering with Rinker Design Associates.
Since two roundabout locations are under consideration, the project team visited two existing roundabouts in other areas to determine their feasibility for this venture. "The City's largest fire engine went through them and had ample room for turning inside the roundabouts," said Sanford. "It was encouraging for all of us and gave us a lot of information, going forward."
Regarding the project's overall traffic analysis, Gunn said they'd be finishing it in the next 30-45 days and giving the results to City staff. Meanwhile, Ray is heading up the Old Lee enhancements, and he discussed the aesthetic features to be added.
"We want this to be a gateway and a really nice streetscape when it's finished," he said. "Anywhere we don't have overhead wires, we can have trees for a canopy. We also plan to use native grasses and perennial flowers and have space for public art. We'll add trees and shrubs where we have space, for a soft, natural, lush landscape."
A bus stop and amenities hub are envisioned for Van Dyck Park, with a bus shelter, plus a bikeshare station with a bike-repair area and an emergency phone. "To bike riders, these things are lifesavers," said Ray.
Also on tap, he said, is a "textured area for walking and biking, across from the Army-Navy Golf Course at Great Oaks Drive. "This would be an area of low, native plantings because we don't want to block the sight line where the road curves," he explained.
He then showed slides illustrating larger, canopy trees, as well as "underwire trees'' which could be placed beneath utility lines and would be colorful and ornamental. "Shrubs could be clustered together and mixed with grasses," said Ray. "And ground cover plantings would add color to the intersections."
He said shrubs and/or cobbles (small rocks) or bricks could be placed between the sidewalk and the bike trail. "It's a strategy to divide walkers from bikes, etc. – [separating] people going different speeds," said Ray. He also noted that small trees and shrubs planted beside the sidewalk could serve as "water-quality and bioretention facilities," catching some of the rainwater. He described them as "tolerant of stormwater, while being lush."
SWITCHING from landscape to hardscape elements, Ray showed some retaining-wall treatments being examined, such as sandstone or flagstone with a cap on top. "We'll come back to make sure we're getting the details right," he said. "We want them to be attractive and fit into the area as a gateway."
Also being looked at are various styles of informational signs telling the paths people may take in that area. In addition, said Ray, these signs will "set the [City's] brand in an aesthetic way." As for lighting, he said they'd stick with the acorn-style lights Fairfax already uses.
Ray said Historic Blenheim's site manager, Andrea Loewenwarter, encouraged the project team to set aside some areas for interpretive art and signs telling the area's history. "We also want plenty of places for benches and planters, like in Old Town," said Ray. "They'd provide a buffer between the uses and break up the hardscape, a bit. And as the landscape, hardscape and other elements come together, this becomes a place where people want to spend some time."
Regarding crosswalks, Gunn said there are currently nine pedestrian crosswalks along Old Lee, and they're "contemplating six [instead], about 1,000 feet between crossings. We're trying to consolidate them, where possible, and put them where people will actually use them."
"Having fewer crosswalks would make them consistent, and drivers would expect to see them," added Sanford. "But this [proposal] is in no way final."
City School Board member Toby Sorensen was concerned that "the kids would just try to cut across the street" between the Country Club Hills community and Fairfax High, but Gunn told her they've still got time to settle on the exact locations of the crosswalks.
A City Council work session, another communitywide meeting and a public hearing are slated for the upcoming months, followed by right-of-way acquisition and utility relocation. Construction is anticipated to take place between fall 2023 and spring 2025.
Sanford also reassured people that "we're trying to re-create the [Old Lee Highway] traffic conditions, pre-COVID, through the traffic model" so they'll be as accurate as possible, when conditions return to a more normal level of use. "This is all a work in progress," she added. "We just wanted to let you know what we're thinking and get your feedback."