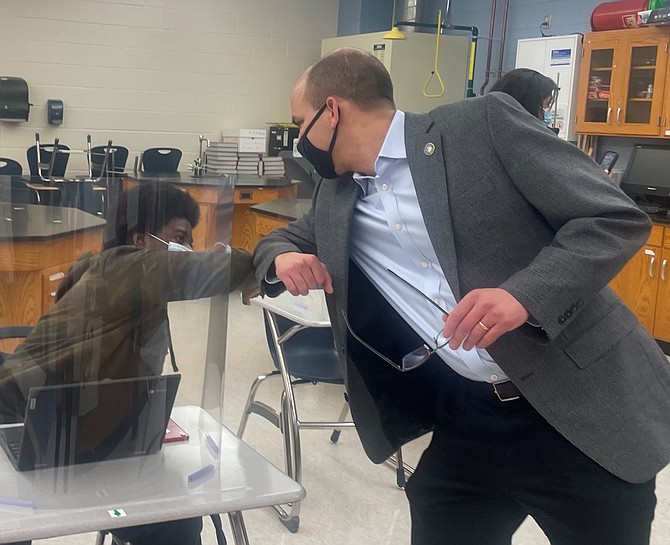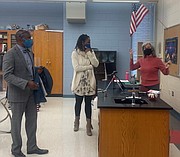 One year after classes were abruptly suspended due to the Covid-19 pandemic, students at T.C. Williams High School returned for in-person studies March 16 with social distancing practices now the new normal at the King Street campus.
Alexandria City Public Schools Superintendent Dr. Gregory Hutchings Jr. welcomed back the returning students, along with T.C. Principal Peter Balas, Mayor Justin Wilson and ACPS School Board Chair Meagan Alderton.
"It's exciting to see our students again and see so much of our staff back," said Balas, who noted that 475 T.C. students arrived that morning for in-person classes. "The students are getting used to their new environment but as time goes by it will be their new normal."
The return of students at T.C. was part of the final week of ACPS students resuming in-person classes with more than 4,000 students returning to schools across the city.
"Today is the big test," Hutchings said. "Today is the most number of students returning at one time. But we have put together a lot of health and safety mitigations that are working in our favor and believe we are providing a safe environment for our young people."
Tuesday marked the return of general education students across all grade levels who have opted for the hybrid program including two days a week in-person schooling. They joined their fellow classmates who transitioned back to school buildings in the prior two weeks.
"Finally, we are back in our school buildings with most of our kids," said Hutchings, who added that about 60 percent of staff returned to the buildings for in-person classes. "Not all are back right now but l am really looking forward to the rest of this year as more of our young people return. It's exciting as we are beginning to do our planning for the summer and having conversations about what the fall looks like."
Social distancing practices are in place for students as are internal procedures on how to respond should a student or teacher test positive for Covid-19.
"We have protocols in place that have made it possible for students and staff to return," Hutchings said. "If we have a positive in our schools, we know how to respond. Unfortunately, we did have a couple of students and staff members test positive in the past couple of weeks and we have been able to effectively put those protocols into practice."
More than 15,500 students are enrolled in ACPS schools representing more than 145 countries and speaking 132 languages. The 18 city schools are comprised of two middle schools, two K-8 schools, a pre-K school and T.C. Williams High School.
"It's been a tough year for everybody," said Wilson, whose two children attend ACPS schools. "It's been challenging for our students and a year of sacrifices. But today is a day of celebration and an opportunity for us to pay tribute to our educators, support staff as well as our families who have sacrificed so much over the past year."