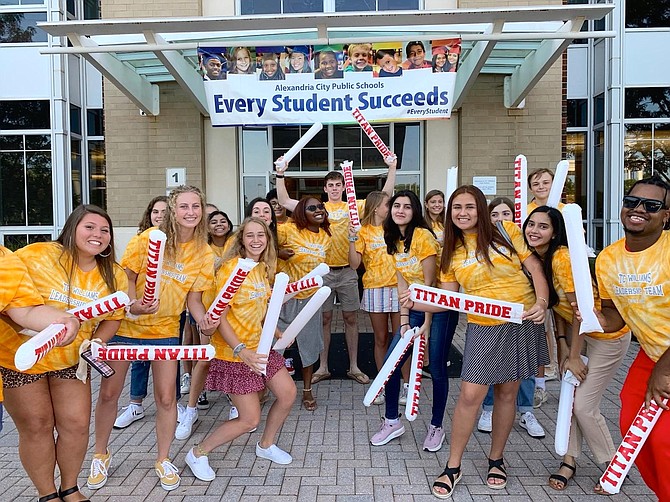 Alexandria City Public Schools officially opened their doors Sept. 3 as students arrived for classes to begin the 2019-2020 school year.
"We have over 4,000 registered students between our three campuses," said T.C. Williams High School Principal Peter Balas. "Teachers and staff spent seven days on preparation and professional learning skills and we are moving to make as many classrooms as possible cooperative learning."
Across the city, ACPS has more than 15,300 students in kindergarten through 12th grade. T.C. Williams is the city's lone public high school, with students spread among the T.C., Minnie Howard and satellite campuses.
"This year will see a new dining option at T.C.," Balas said. "A new student convenience store with a grab-and-go option will be available in partnership with No Kid Hungry Virginia. It's another dining option to offer our students."
ACPS Superintendent Dr. Gregory C. Hutchings Jr. visited schools across the city, welcoming students and teachers alike to the new school year. Alexandria Mayor Justine Wilson also made the rounds to wish students well.
"Great morning hanging out with Dr. Hutchings to welcome students, faculty, parents and support staff back to school at Lyles-Crouch Traditional Academy, Jefferson-Houston PreK-8 IB School, and T.C. Williams High School," posted Wilson on social media. "It's going to be a great year for our kids!"
At T.C. Williams, the Titans Band joined cheerleaders, JROTC members and the T.C. Leadership Team in welcoming back returning students.
When asked what she was looking forward to this school year, T.C. senior Amy Navarro didn't hesitate.
"Having fun," Navarro said. "But also getting good grades and then graduation next year."