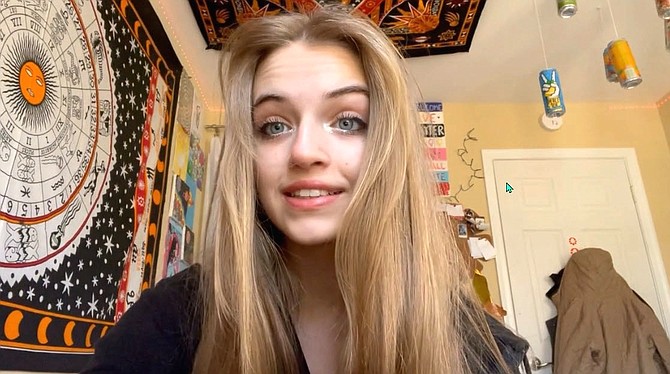 "What separates us?" asked the opening line of Langley High School's "Long Division." This was the question the show grappled with, and it led to answers both evocative and troublesome, as well as hopeful and uplifting.
"Long Division" was conceived by Langley's theatre class as a reaction to the storming of the U.S. Capitol on Jan. 6. It is a work of devised theatre, meaning the show was conceived, written, and performed collaboratively by an ensemble. It centered on themes of unity and division during the pandemic and our tense political climate.
The student-produced script told honest, moving stories that were incredibly pertinent to our time. They were relatable and spoke very true to the experience of today's American teen, but also to a broader human experience of the balance between division and connection.
The show was held up by a series of earnest, truthful performances from the large ensemble. Every cast member gave dedicated, polished performances. One notable performance was that of Conard Racich in his voice-over work, using a droning monotone that spoke perfectly to the endless tediousness of online school. Another was Elizabeth Tippens and Devran Johnson's chemistry, which made the distance of acting virtually between them seem nonexistent.
What really brought the piece to life was its flawless editing by Conard Racich, Elizabeth Tippens, and Celeste Deale. They used stock footage and clips of news broadcasts to illustrate the events the script discussed, and created a sleek, professional-looking product that was also deeply emotional and moving. They also manipulated the actors' voices and added sounds and music to incredible dramatic effect. Their work truly took advantage of the recorded form, using it to make a show completely unlike what could be performed live.
Langley High School's "Long Division" shined a light on the problems facing our society today, but also provided a hopeful look at how we can move forward from here.
The performance can be watched at: https://www.youtube.com/watch?v=OmNpfmYQr0o