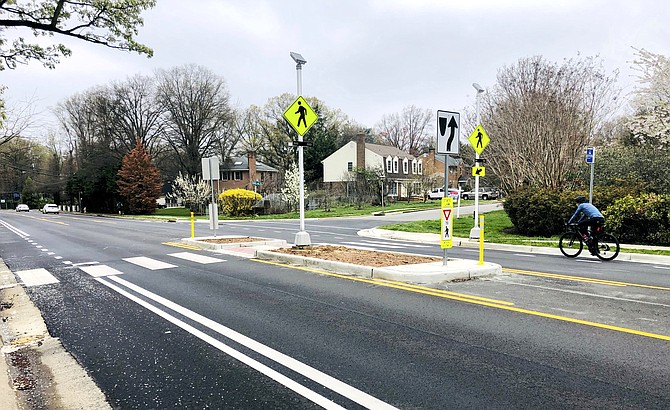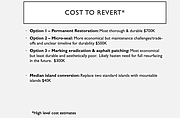 The lingering resentment over Seminary Road bike lanes comes with a price tag, somewhere between $300,000 and $700,000 — a cost four City Council candidates say they're willing to pay for returning four lanes of traffic to the street. During an Alexandria Democratic Committee candidates forum this week, incumbent Councilman John Taylor Chapman and Councilwoman Amy Jackson said the cost is worth it, a position shared by candidates Bill Rossello and Mark Shiffer.
"I'm pretty well known for this issue because I fought against the road diet," said Rossello, adding that he supports some of the safety improvements. "We took an arterial road and narrowed it. It was a busy arterial road with 17,000 cars on it every day that people in this city depended on."
The controversial four-to-three vote in September 2019 came after 18 months of debate, and in the aftermath of the decision, several opponents vowed to make it a campaign issue in the next election. Chapman and Jackson both voted against the road diet along with Councilman Mo Seifeldein, who is not running for reelection. Mayor Justin Wilson and Councilman Canek Aguirre are the only incumbents seeking reelection who voted in favor.
"Part of the reason we were doing this was to improve access to all road users," said Aguirre, who is one of the six candidates to say they are opposed to spending money to restore four lanes of traffic. "If you go out there right now, you'll see people walking their dogs, walking their babies, on bikes, on scooters."
Other than Aguirre, candidates who say they oppose spending $300,000 to $700,000 to restore four lanes of traffic on Seminary are Bill Campbell, Alyia Gaskins, Kevin Harris, Kirk McPike and Meronne Teklu. Several of these candidates said they were not necessarily in favor of the decision to move forward with the road diet, although they also said spending the money to undo what's already been done was not a good use of taxpayer dollars.
"If we have an extra $700,000, I want to make sure we're using that to keep people in their homes who are facing eviction," said Gaskins. "People are going hungry every night and worrying about how to feed their children."
"We've already wasted too much money creating the road diet. But now I think it would be an even greater mistake, fiscally, to use good money after bad."
— Kevin Harris, candidate for Alexandria City Council
Three candidates say they would need to see more information before they make a decision on whether or not the expenditure would be justified. Because the bike lanes were installed right before the pandemic, these candidates said, the city doesn't really have a clear picture of how the road diet may have contributed to traffic congestion. Sarah Bagley, James Lewis and Patrick Moran say they want to see more data before committing to a position on the controversial issue.
"I appreciate the attempt to make this sort of a fiscal analysis, but of course the other side of that is the cost of a human life," said Bagley. "The cost of congestion would have to be a fairly great degree to outweigh what was primarily a safety and inclusive streets policy."
THE 2019 VOTE has become a central fault line of Alexandria politics, with many people strongly in favor of the decision while others remain bitterly opposed. Some view the debate as a clash between urban versus suburban development while others view the conversation through the lens of expanding access to roads beyond automobiles. Numbers compiled by city officials in February 2020 show the new road diet on Seminary increased travel times during the morning rush hour about 30 percent or by one minute.
"Congestion has a cost," said Moran. "If folks are sitting in traffic, they're not able to get to work or pick up their kids or do other things. That has a cost."
The cost of removing the bike lanes won't be cheap. City officials have compiled three options for restoring automile lanes to the street. A $300,000 option would "likely hasten need for full resurfacing in the future." A $500,000 option would have "maintenance challenges." Only the most expensive option, which has a cost of $700,000 for "permanent restoration," is considered "most thorough and durable."
"We're definitely not going to put it back to the way that it was," said Shiffer. "But I think there was a solution that the city didn't look at where they could have four lanes of traffic, they could have bike lanes, they could have a safe sidewalk, they could have all of it — and that I would be in favor of spending the money to do."
Several of the candidates who oppose spending the money to restore automobile lanes also said they think the city made a mistake with the road diet. But, they said, spending more money to solve the problem would not be a good use of taxpayer money to restore automobile lanes to the road, especially considering the hardships created by the pandemic.
"We've already wasted too much money creating the road diet," said Harris. "But now I think it would be an even greater mistake, fiscally, to use good money after bad."