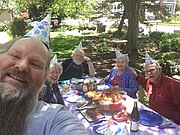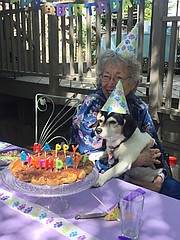 Sixteen years ago, Arlington resident George Hobart walked into the Animal Welfare League of Arlington's animal shelter and, right away, a five-year-old Beagle/Jack Russell Terrier mix named Wednesday caught his eye.
"When I saw her at the AWLA, I asked the staff if I could take her out in the backyard, and she immediately rolled over," George recalled. "I gave her a belly rub, and that was it."
George brought her home that day and he and his wife, Marjorie, renamed their new dog Wendy to better fit her sunny disposition. And the rest is history – ongoing history. On Sunday, April 18th, Wendy's tribe – George and Marjorie Hobart, George's son, Ted Hobart, and Wendy's foster parents, Kit and Gary Putnam – gathered to celebrate her 21st birthday. And, yes, you read that right: Wendy is 21 years old by human definition, making her 147 years old in some measure of "dog years."
"Wendy asked me to help her coordinate the celebration, so I was the event planner," Ted said. "It was a small backyard celebration that included me, my parents, and Kit and Gary [who took her in full time amid the pandemic last year]. During this afternoon soiree, Wendy enjoyed her favorite – Gary's delicious grilled chicken – and the rest of us enjoyed hot dogs, macaroni and cheese, cole slaw, and apple pie in her honor."
Decorations were hung and everyone wore party hats, including Wendy. It was a party where each human in attendance had at least a hundred heartwarming memories of Wendy.
"When Dad got Wendy, my brother and I fell in love with her immediately," Ted said. "She just became a member of the family. She and Dad did everything together — he always brought her everywhere because she just gets along with everyone. She is so personable and only barks in joy or happiness, never aggression. She is a wonderful soul."
In her 21 years, she has played quite a few roles in the lives of the people who love her – and in the community.
For instance, she served as the indoor pool mascot at Ballston's Jefferson Independent Living and Retirement Home, where she lived with George and Marjorie until last April. She's also been a motivating running buddy, even having participated in the inaugural Arlington Bunny Hop 5K in 2018.
Through it all, she has made more friends than she could count on two paws.
"She lived in Lyon Park with my dad and Marjorie until they all went to live at the Jefferson, where it was like she became the official Jefferson dog," Ted said. "Everyone there knew and loved Wendy. There was even a musical about her, and Wendy herself made a cameo."
Wendy was also perhaps Lyon Park's most popular resident for the many years that the Hobarts lived there.
"She was literally the neighborhood petting zoo," George recalled. "Wendy was usually the only four-legged guest at all the kids' birthday parties, and everyone loved to pet her. Then our next-door neighbors had a son named Adam, and Wendy would visit him frequently. One day when Adam was in kindergarten, the teacher asked the class if any of the students had a dog, and Adam raised his hand and said, 'I have a dog named Wendy!'"
Wendy moved to what the Hobarts call "Camp Putnam" (also in Arlington) last year when coronavirus-related restrictions put a damper on her previously active social life at The Jefferson. This transition, though, didn't mean new owners for Wendy – it just meant that her family got bigger.
"I visit her every other day at the Putnams' no matter what the weather conditions are, and my two sons go over there as often as possible to play with her and walk her," George said. "Kit and Gary lost a dog right before the pandemic, so Wendy was as great for them as they are for her. They love her as much as we do. She takes several naps a day with Gary."
If you ask Marjorie, those naps just might be the key to Wendy's longevity.
"If she could tell you her secret to living a long and healthy life, I think she'd say it was all about napping enthusiastically," Marjorie said. "She saves her energy for what's most important to her, like food and playtime with her people."
As she embraces her 22nd year of life, Wendy will get plenty more time with these people – especially George, who has no plans to stop regularly visiting the most special dog he's ever known.
"I think one of the reasons Wendy has such a great personality and why she's always smiling is because she absorbed some of my dad's energy," Ted said. "He was always socially and civically involved in Arlington, and Wendy went with him everywhere. They continue to be inseparable. They're a match made in heaven."
Wendy was first featured in the Connection in August. http://www.connectionnewspapers.com/news/2020/aug/27/arpets-story-wendy/