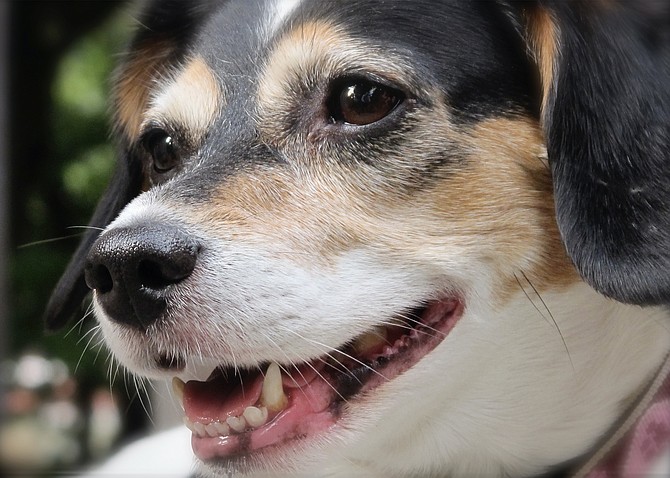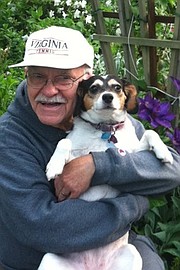 Until the coronavirus, Wendy lived with George and Marjorie Hobart at The Jefferson independent living and retirement home in Ballston. When I spoke with homeowners association president, Bob Johnson, he joked that the attitude at The Jefferson is that even if you don't have a dog, you should still walk a dog every day. All pets are welcome there.
The four-leggeds are used to enjoying all kinds of freedoms at The Jefferson which may mean extra security is required on election day which boasts a conveniently located neighborhood polling place right in the building. It's easy to imagine Wendy orchestrating an election day visit in order to campaign and encourage write-in voting for her own candidacy, with some of her more wily canine and cat friends attempting to sneak in to cast votes.
George's story of his beloved Wendy has been edited for length and clarity:
Wendy is a 26-pound rescue mix. Her mother was a beagle and her daddy a Jack Russell who lived next door — and leaped the fence! We live in a high rise retirement community in Ballston. Wendy is loved by all the residents. For over a year she was our mascot at our indoor pool, wandering around the perimeter trying to kiss everyone! Unfortunately, County health regulations made her leave her lifeguard post.
Wendy even had an act in our annual Follies show. The 92-year-old woman who played Wendy, dressed as a beagle, was called upon to attack a suspected intruder. She leaped upon him and licked him into submission.

In March when the pandemic struck, my wife and I decided to farm Wendy out to former neighbors who love her as much as we do. She's been able to bask in the sunshine of their beautiful backyard, where she occasionally chases squirrels and rabbits.
Shortly after she arrived in her home away from home in March, she became very ill with severe intestinal problems and back and leg pain. My son was so worried that she wouldn't reach her 19th birthday in April that he dug a five foot deep grave in his backyard where many other family critters are buried.

But the grave remains open and Wendy shows no signs of wanting to fill it. I visit her every other day.

ArPets is a weekly feature by Joan Brady, an award-winning Connection Newspapers columnist and local photographer specializing in pets, children and families, and contemporary business portraits. If you know of a pet that should be featured, contact Joan at joan@joanbradyphotography.com