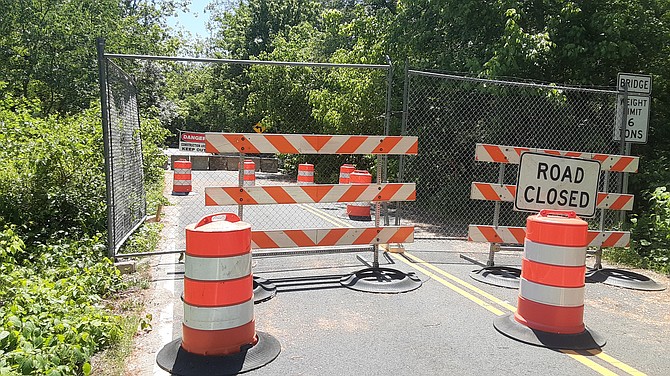 According to the American Society of Civil Engineers, the nation's infrastructure gets a C-minus for a grade, and that includes bridges and roads around Mount Vernon.
A good example of this low grade is the decrepit bridge that carries Old Colchester Road over Pohick Creek in the Lorton area. According to the Virginia Department of Transportation, the Old Colchester Road bridge over Pohick Creek was closed on March 19, due to the results of the latest safety inspection that revealed it is falling apart. An 80-foot by 24-foot Acrow temporary bridge is being procured and installed with a goal of reopening Old Colchester Road by early summer 2021, VDOT says. Crews are installing the temporary bridge now to safely reopen the road as soon as possible, while long-term plans are explored for the permanent replacement bridge in coming years through State of Good Repair funds.
This project caught the eye of Virginia Sen. Scott Surovell (D-36), who put it on his list of local infrastructure needs in the southern Fairfax County area.
"This bridge is an example of the problems we're going to continue to see because of the lack of funding over the last 30 years," Surovell said.
"Growing wear and tear on our nation's roads have left 43% of our public roadways in poor or mediocre condition, a number that has remained stagnant over the past several years."
— American Society of Civil Engineers
Also on Old Colchester Road is the bridge over Giles Run that seems to flood more often lately due to more intense storms possibly due to climate change, Surovell said. When the bridge floods, there is only one other way to reach the houses in that area, and it is a road with a one-lane underpass that is problematic to fire trucks. There are some fixes that need to be done, but other projects will be a priority with the limited funding.
Other Mount Vernon needs, Surovell said, include undergrounding the utilities on Richmond Highway; bike and pedestrian paths in several locations; George Washington Parkway rehabilitation; Richmond Highway widening; and extending Metro's Yellow Line to Hybla Valley, Fort Belvoir and Quantico. It's a big list, needed by the area's growing population.
Funding is a big point Surovell indicates on his wish list. There is some money for the undergrounding of utilities on Richmond Highway and he's passed legislation to give Fairfax County a new dedicated tax to fund the rest, but they have not taken advantage of that authority yet, Surovell said. For the parkway rehabilitation, there may be funds through U.S. Sen. Mark Warner's Great American Outdoors Act.
The Federal Transit Administration is a likely source for some of the remainder of the funds for the Richmond Highway widening project, and to run the Metro to Belvoir and possibly Quantico, it will involve a DRPT study, and more money. "We will need to come up with a significant funding stream to pay for major transit projects," Surovell noted.
Other Places That Need Attention
The VDOT project list has a few bridge projects that fall under the infrastructure rehabilitation heading and the wheels are in motion to get these done.
There is the North Glebe Road bridge over Pimmit Run bridge rehabilitation project in Arlington, the King Street bridge over I-395 rehabilitation project in Alexandria, and the John G. Lewis Memorial Bridge rehabilitation project in Loudoun County to name a few.
A couple of rehabilitation projects in the design phase include Route 29 Northbound over Cub Run Bridge Rehabilitation and the Springvale Road over Piney Run Bridge Replacement in Fairfax County.
VDOT has acknowledged the need for road repair in general, and has included this in future funding plans. In the Six-Year Financial Plan adopted by the Commonwealth Transportation Board, they are looking at $36.9 billion for FY 2019-2024.
The first priority for funding is maintaining existing infrastructure. This comes primarily from the financial plan's Highway Maintenance and Operating Fund. In addition, the "State of Good Repair" program is there to help rehabilitate aging infrastructure based on bridge and paving needs.