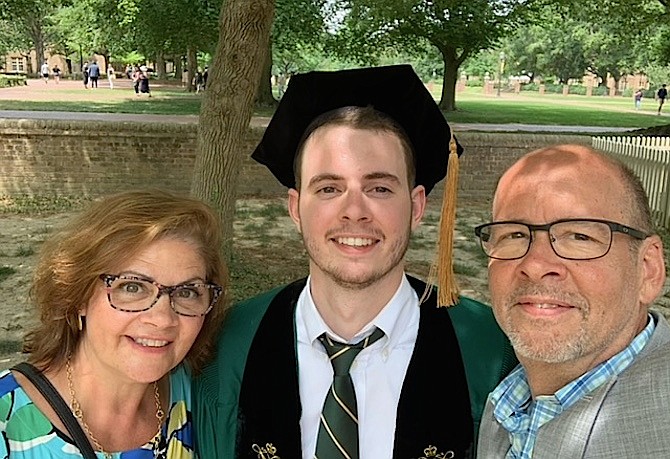 Almost nine years ago in 2012, Lake Braddock Secondary School star baseball player Nick Balenger was vacationing in Maui, Hawaii with his family when he suffered a spinal cord injury that paralyzed him from the neck down. After years of physical therapy and perseverance, he graduated cum laude from William and Mary Law School on May 22 and is now able to walk with one forearm crutch.
"I started [law school] back in 2018, so it's been three years of tough work," said Nick, now 25 years old. "It's just good to finally get over this hump of law school because it's been a fun experience, but it's been tough."
His mother, Sylvie Balenger, and father, Steve Balenger, attended his graduation in person. Sylvie reflected on the progress Nick has made since his injury.
"It was a few years of physical therapy, intense physical therapy actually," she said. "He went from really being bedridden to being in a powerchair… then a manual chair, and then a walker, and on two crutches and now one crutch. He's able to walk, he's able to drive, he lives independently and he's a great cook!"
NICK received the Victory Gala Award from the National Rehab Hospital for his "courage to overcome adversity," said Sylvie. He was also recognized by the American Physical Therapy Association and gave the keynote speech at one of their annual conferences.
In addition to his recovery, Nick has made many other accomplishments over the past nine years.
"I've done some public speaking, I've worked at the State Department, I also worked at a science and technology think tank as an intern, and then I came here to law school after graduating from George Mason," said Nick. "After my first year of law school I worked for a federal judge, Henry Hudson, in Richmond, and eventually got hired as a summer associate at a law firm."
Nick was also on the staff of the William and Mary Law Review after his first year of law school and was part of the Public Service Foundation, which helps "raise money for students that are working for nonprofit organizations pro bono," said Sylvie.
He also coached a West Springfield Little League team.
"He threw out the first pitch at the West Springfield Little League opening day, and a few years later, on his last semester at George Mason, he decided to put his name in the hat to coach one of the little league teams, because that's the same little league that he played in," said Sylvie.
Nick expressed his appreciation for the Swim With Mike organization.
"[Swim With Mike] supported me throughout college, they gave me some scholarships, and I just wanted to maybe give a shoutout to their organization," he said. "They provide scholarships for student athletes with disabilities, and I've been getting a scholarship from them for most of college."
SYLVIE AND STEVE thanked those who supported Nick and their family after his injury, from the get well cards to the donations.
"People cared for us as a community, and I think Nick has taken that and he's paid it forward," said Steve. "He's on the right path, and that's due in great deal to the support that he received from the Burke community."
After graduation, Nick will be moving back to Northern Virginia, taking the bar exam and working as an attorney at Cooley Law Firm in Reston, as the first lawyer in his family.
"For him to venture into something kind of scary and very challenging, it really is a huge accomplishment," said Sylvie. "To be proud of him is kind of an understatement. He is, I think, very amazing in how great he is."