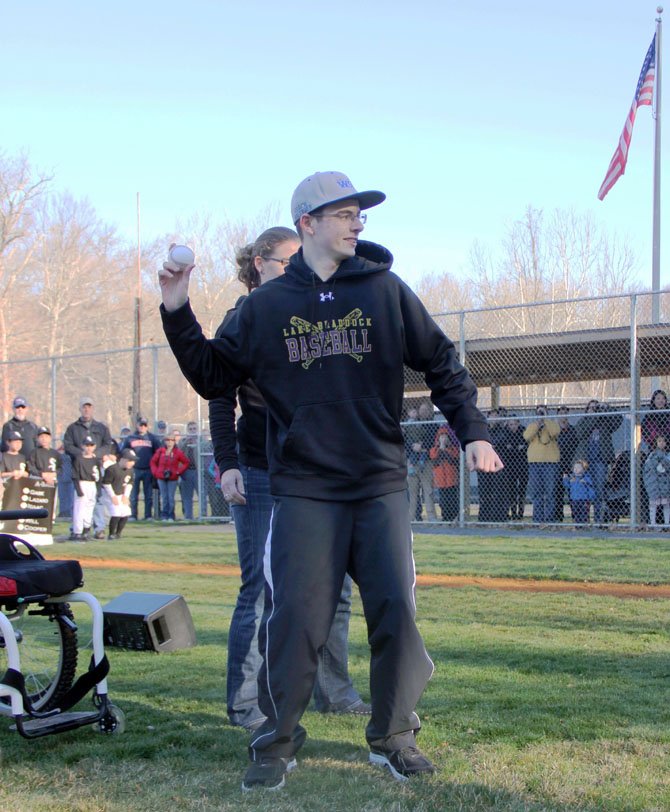 "You always get a special kick on Opening Day, no matter how many you go through. You look forward to it like a birthday party when you're a kid. You think something wonderful is going to happen," said baseball legend Joe DiMaggio.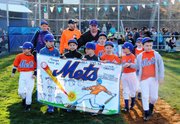 And something wonderful did happen at Byron Field during West Springfield Little League's 42nd Opening Day ceremony on April 6.
Filled with 750 supporters on a sunny Saturday morning, the stadium fell silent as Nick Balenger wheeled himself onto the field.
Many fans held hands, held their breath, or crossed themselves in prayer as the 17-year-old pushed himself out of his wheelchair, took halting steps to home plate and threw out the first pitch.
"It was dead quiet, and then the crowd just erupted into cheers," said Greg Adams, president of West Springfield Little League (WSLL). "I had heard stories that Nick was taking a few steps, but when you're there, standing next to him, watching him walk… it took my breath away."
For Christine Bachman, watching Nick Balenger throw out the first pitch was nothing short of miraculous.
Bachman, a former attorney and self-described "baseball mom," got to know Balenger last summer when he volunteered to help coach her son's All Star team.
"I was in awe that the boy I met in a wheelchair who was given such an uncertain prognosis was actually able to stand up and throw out the pitch just a few months later," Bachman said.
"I also felt great admiration … throwing a pitch 40 feet after a devastating spinal cord injury less than a year ago didn't just happen because Nick wanted it to. It is a testament to his fortitude, work ethic and resiliency. My son, Brian, actually caught the first pitch from Nick."
BALENGER STARTED with WSLL when he was 6 years old, as a Single A Diamondback, and finished as a 12-year-old with the Majors Red Sox.
The talented young athlete played three years of All Stars, and was a member of the 2007 10/11 state champions team.
"Like many kids in Little League, Nick's dad Steve managed and coached several of his WSLL teams, and his mom Sylvie could always be found in the stands at Byron cheering him on," Adams said.
"I would never trade those years for anything," Balenger said. "Baseball was the foundation for our family's bond. Every practice I've been to, every game I've played got me one step closer to my high school dream."
Last June, his dream became a reality. The Lake Braddock Bruins won their first baseball state championship.
Balenger, who was actively being recruited by many colleges, had the world at his feet. And he was looking forward to spending an "awesome" summer vacation with his family on the island of Maui, where he was born.
But his "dream" summer quickly turned tragic.
On July 25, 2012, his first day in Hawaii, he dove into a wave and broke his neck in two places. The accident left him paralyzed from the neck down.
"I was pulled out of the water by my dad. In an instant, [everything] was ripped away. Most of my family was 6000 miles away, my baseball career was over, the chances of me walking again were next to none and school was the least of my worries. I thought my life was over," Balenger said.
Balenger said the next three days were a blur due to all the medication and surgeries, and on July 31, 2012, Balenger spent his 17th birthday in the same hospital where his life began.
After two surgeries to stabilize and fuse his spine, Balenger spent 19 days in an ICU on Maui, and 67 days as an inpatient at a rehabilitation hospital in Washington, D.C.
"He was initially given little chance of walking again, but he made it his mission to prove the doctors wrong," Adams said.
Bachman said Balenger's resilience amazed her. "If his therapists told him to do something 10 times, he would say, 'I'll do it 15 times.' He never gave up."
"I was pulled out of the water by my dad. In an instant, [everything] was ripped away. Most of my family was 6000 miles away, my baseball career was over, the chances of me walking again were next to none… I thought my life was over."
—Nick Balenger
Two-and-a-half months after his accident, Balenger took his first steps. Two months after that, he began moving around his house, walking hundreds of steps in therapy and he began to walk up stairs.
Adams said the same tenacity and grit that served him well as a baseball player helped him defy the odds, and throw out the first pitch on Opening Day.
"As parents, we tell our kids that this game is about much more than a ball and a bat and that competitive sports prepare you for life, but Nick is the living proof. His parents say that his drive stems from a competitive desire to walk again," Adams said.
Balenger's story also illustrates the unique "Byron Experience" —the powerful bonds forged on the fields at Byron among the players and their families.
WITHIN DAYS of his injury, his two best friends, whom he first became close with when they played WSLL together, flew to Hawaii to be by his side, and the WSLL community quickly rallied around Balenger and his family.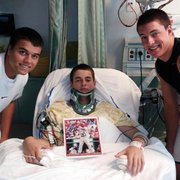 Bachman and Sandy McIntyre, another "baseball mom," created a fundraising committee to help support Balenger and offset the costs of his medical expenses. Bachman also maintains Balenger's website, attends therapy with him and volunteers with him through the Lorton Community Action Center.
"He inspires children just by showing them that you can face life's challenges with resilience and courage," Bachman said.
Serving as a role model is a natural fit for Balenger, she said.
"Our boys wore his number on their arms and in their hearts at regionals and have become true buddies to Nick just as he has become a role model for them," Adams said. "We are so pleased to have him kick off our season. ... Nick's achievements are reminders of all that is right and best about this game and our league."
When Balenger arrived back to Virginia, after three weeks in the hospital, he was welcomed by busloads of friends from Lake Braddock.
"My parents and family were overwhelmed by the community calling to see what they could do to help. I knew I wasn't in this alone," Balenger said.
"My family is stronger than ever. I will be going to school for the first time in January and although I am not playing baseball, I still have the mind and heart of an athlete."
To find out more about Balenger, go to www.nickbalenger.com.