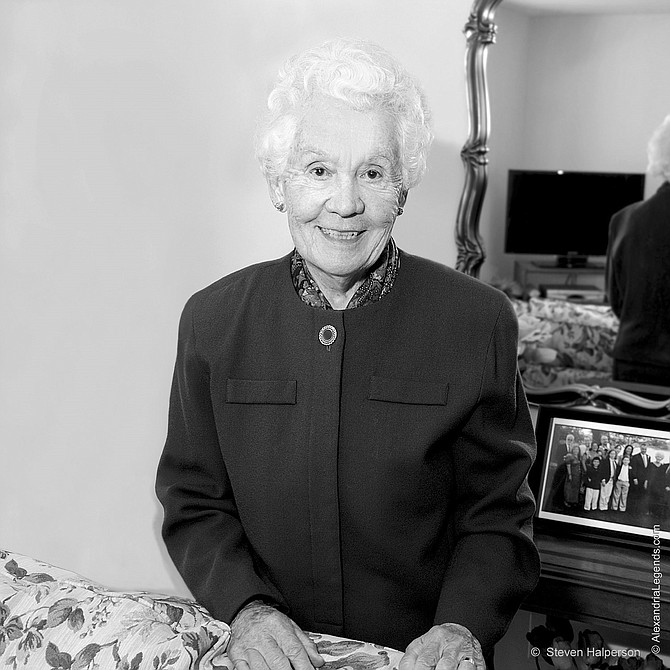 Gardening was a passion for Rose Berler, who won numerous awards for the Lincolnia Hills garden she first began tending in 1958. Over the years, she extended her passion to many civic organizations, leaving behind a lasting impact across the city. On May 19, the energetic nonagenarian died in Lewes, Del., after suffering a stroke. She was 95 years old.
"Rose and her husband were original owners in Lincolnia Hills and many a time way back when I walked by her house to find her outside tending to her garden," said Sylvia Alimena in an online tribute. "I was happy to see her most recently just a few weeks ago where she was once again happily tending her garden and cleaning the debris from the street. She was quite proud that she was still doing these things at 95. Her presence will be missed by me and the entire neighborhood who knew her."
Rose Enevoldsen Berler, known to her family as Rosie, was born Jan. 7, 1926 in Norfolk, Va. Following high school, she attended the Sinai Hospital School of Nursing in Baltimore and won a pediatric scholarship to attend Catholic University's School of Nursing Education.
In 1949, she married Seymour Berler, a physicist whose work with the Defense Intelligence Agency brought the couple to Alexandria where together they raised three children. Berler was a founding member and secretary of the Lincolnia Hills Civic Association and served as president of the T.C. Williams Parent Teachers Student Association from 1974-75.
Berler served on the Board of Directors of Alexandria Hospital Corporation, later Alexandria Health Services Corporation, from 1978 to 1997, including serving a term as its chair, the first woman and nurse to do so. She served on the Alexandria Youth Services Commission and the Advisory Committee for Adolescent Health Clinics. From 2000 to 2014, she served as chair of the Alexandria Schools Health Advisory Board and was recognized by the School Board in 2013 for her years of service.
Berler was a long-time member of the League of Women Voters of Alexandria, serving as president for two terms from 1970 – 1973 and again from 1977-78. She also was chair of the Alexandria United Way and a member of their Campaign Cabinet in the late 1970s. She was involved with the Senior Citizens Employment and Services (now Senior Services of Alexandria) from 1968–79 and served on its board of directors in 1978–79.
In 1978, Berler became the first woman appointed to the Alexandria Redevelopment and Housing Authority, serving for nine years. In this role, she worked to ensure safe living conditions for women and children in public housing. She was also the commissioner and first woman appointed to the Virginia Housing Development Authority, serving between 1980 and 1984, as well as a member of the National Association of Housing and Redevelopment Officials.
Berler was honored with the George Washington Citizenship Award from the Alexandria Chamber of Commerce in 1975 and was the recipient of the Marguerite Payez Leadership Award from the Alexandria Commission on the Status of Women in 1994.
In 2014, Berler was named a Living Legend of Alexandria, saying at the time, "when you get involved, something good always comes out of it. So many people need help."
Berler was predeceased by her husband in 1991. She is survived by children Anne Berler of Myrtle Beach, S.C.; Joan Berler of Alexandria; and Daniel Berler of Washington, D.C.; a sister, Edith Offenhartz of Canton, Conn., and numerous nieces and nephews.
A memorial service was held May 24 with interment at Ivy Hill Cemetery. In lieu of flowers, donations may be made to the League of Women Voters. https://www.lwv.org/