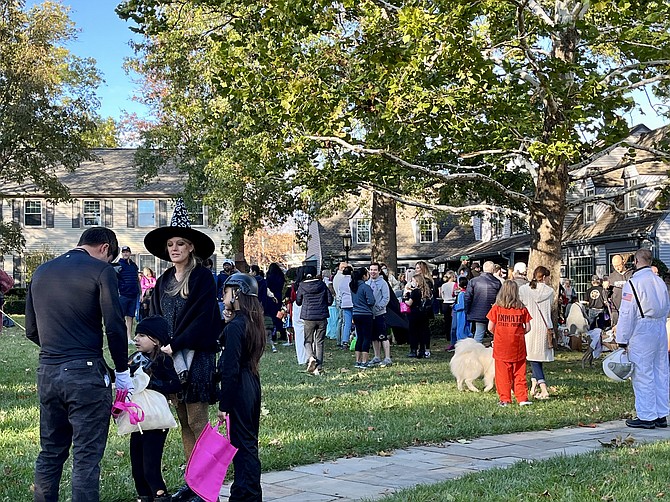 Halloween in the heart of Great Falls is best described as Spooktacular,  a palooza of make-believe, treat bags, and skeletons. Held at the Great Falls Shopping Center and Village Green by Celebrate Great Falls on Sunday evening, Oct. 31, entire families dressed up for the event. They came from the local community like the Kracht family of Great Falls and surrounding areas such as the Hussey family of Fairfax and the Gorlick family of McLean.
Everyone joined in the fun to trick-or-treat with local merchants and organizations in a safe environment. Boy Scout Troop 55 created the Haunted House, whose line of zombies, princesses, Harry Potters, and more extended across the Village Green.
The Langley High School Band provided the auditory spook, playing creepy music. Even the dogs got in on the action with the Pet Parade and Costume Contest.
Ryker Kracht, 10, of Great Falls, holds back Mabel, the bubble-bee dog, while his sister, Sophie, keeps a firm hand on Nemo, the grandma pooch. "We came to see all our friends dressed up and celebrate."
- Stephanie Kracht, not pictured and holding the dog treats.
Ursula Lee Johnson (center) of Great Falls joins her daughter, mermaid Maggie Wray with grandchildren (from left) Charlotte, Jake, and James. "We love the community, and we always come to everything they do."
- Maggie Wray
Mummy Megan Hussey of Fairfax holds her little witch Sydney, ten months old, with zombie Logan, 5, beside her at the Great Falls 2021 Spooktacular Halloween at the Village Green. [Not pictured: Husband Werewolf Dave and daughter ghost Aubree, 3, were elsewhere on the green doing a little trick-or-treating.]