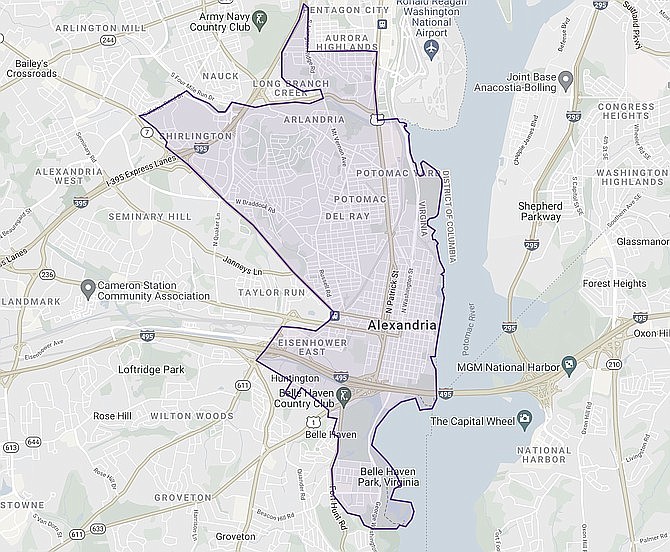 In Richmond, the 45th House District is known as a cursed seat because of its dizzying turnover. After the retirement of longtime Del. Marian Van Landingham (D-45) in 2006, the district has blazed through three delegates in rapid succession. Now the seat is open once again after the incumbent, former radio talk show host Mark Levine, lost the primary when his name appeared on the ballot twice because he was trying to simultaneously win reelection to the House while also snagging the Democratic nomination for lieutenant governor.

He lost both elections, and now the seat representing Old Town and Del Ray is open yet again.

The Democrat in the race is Alexandria Vice Mayor Elizabeth Bennett-Parker, who burst onto the scene three years ago and seized the top spot on City Council as vice mayor by receiving more votes than any other candidate, including veteran council members who have been around for years.

The Republican in the race is former CIA branch chief J. D. Maddox, who is trying to frame his campaign as an alternative to the hyper-partisanship in the modern political landscape. Maddox will be facing an extreme partisan disadvantage of running in a district where the Democrat usually wins with 75 to 80 percent of the vote.

"It's always tough to recruit candidates for one-sided districts where the outcome is just about a certainty," said Stephen Farnsworth, political science professor at the University of Mary Washington. "The good news is that David can sometimes beat Goliath. The bad news is that it may take something really out of the ordinary, like the discovery of a freezer filled with cash, to dislodge a dominant party in a one-sided district."
J.D. MADDOX was born on base at Fort Belvoir, the son of an Army officer. He has a bachelor's degree in liberal arts from St. John's College in Annapolis, Md., and a master's degree in security studies from Georgetown University. Professionally, he has about 25 years of experience in the federal government including more than a decade as a CIA branch chief, focused on counter-terrorism activities as well as influence and disinformation. He has lived in Old Town since 2002, and he votes at the Lyles-Crouch precinct.

"There are a lot of us who really feel like if we don't get involved now, we are letting things go much farther than they ever should have gone in terms of the hyper-partisanship that we're experiencing," said Maddox. "I'm trying to take what I think are my own values and objective assessments of the environment and objective assessments of policy issues and trying to initiate discussion about that, and the political party side to me is really secondary to everything else."

If elected, Maddox says he wants to create a program that provides four years of public higher education in Virginia for any qualified student who signs up for service in a skilled service role in Virginia. He says he would fight for more money to pay for infrastructure in Alexandria, adding that he believes the actual cost of fixing the sewer in Alexandria will end up being about twice as much as the current estimate of $500 million. He also says he wants the General Assembly to limit how much local governments can tax residential property taxpayers, creating a cap of 1 percent. The current residential real-estate tax rate in Alexandria is $1.11 for every $100 of assessed value. City officials estimate that if Maddox's cap was in place this year, the city would have about $47 million less revenue in the current budget.

"One of the primary purposes of the cap is to ensure that people are not pushed out of their homes because they can no longer afford the taxes," said Maddox. "I know from speaking to people door-knocking and elsewhere that it's African Americans and other people of color who appear to be having the worst trouble with affordability of their current homes."

If elected, Maddox says, he would oppose requiring businesses to offer five paid sick days a year. He would also oppose a ban on assault weapons, a bill that Levine introduced but was ultimately unsuccessful. Maddox says he opposes efforts to create limits to campaign contributions, and he says he agrees in principle with eliminating mandatory minimum sentences for non-violent crimes although he's worried about how it would be implemented. When asked about re-instating the requirement that a person have an ultrasound before getting an abortion, he said he had no opinion on that. He also says he would support legislation requiring school divisions to have school resource officers, and he opposes efforts to ditch the Electoral College by joining the National Popular Vote Interstate Compact.

"Socrates died because of direct democracy," he said. "I appreciate the emotion behind trying to create a direct democratic vote, but I want to be consistent with the Constitution."


ELIZABETH BENNETT-PARKER is a native of Alexandria, she was born into a military family that moved frequently during her childhood. She has a bachelor's degree in history from Cornell University, and a master's degree in the anthropology of food from the University of London. She emerged on the scene three years ago during her first campaign for office. Although she was a first-time candidate, she received more votes than any other Alexandria City Council candidate – a distinction that landed her the title of vice mayor. In 2014, she founded a social enterprise known as Fruitcycle to fight food waste and hunger. That organization later merged with the nonprofit organization Together We Bake, which provides workforce training and personal development to women in need. She votes at the Naomi Brooks School, which was formerly known as the Maury Precinct."My mom always taught me if you're not part of the solution, you're part of the problem," said Bennett-Parker. "My experience on City Council has taught me a lot about the issues that are important to my community and how we need changes and more authority from Richmond in order to better serve our residents."

As a member of City Council, she used her food-manager's license to lead meal production for students who live in poverty during spring break last year at the beginning of the pandemic. She worked with small-business owners to install a mural known as the "Butterfly Effect" on Upper King Street, and she suggested an amendment to the city's environmental policy to make sure that all future public buildings are net-zero for carbon emissions. She's currently working with the Virginia Freedom of Information Council to advocate for a new law that would allow for local government boards and commissions to meet electronically, which is currently prohibited outside of an emergency.

"We've seen virtual participation and public participation dramatically increase during the shift to virtual meetings over the last 18 months," said Bennett-Parker. "We certainly want to keep our residents engaged in government."

She's in favor of limiting campaign contributions and banning contributions from corporate donors, particularly public utilities like Dominion. She supports banning assault weapons and joining the National Popular Vote Interstate Compact, and she says she would vote in favor of eliminating mandatory minimum sentences for non-violent crimes. She says she would like to expand access to early childhood education by providing waivers for free childcare to families that earn up to 200 percent of the federal poverty level, and she supports requiring businesses to offer five paid sick days a year. She also says she would work with the Alexandria Library Board to pass legislation making new demands on publishers who withhold digital content to protect profits.

"If these publishers also have an e-book version of their book available, they need to also offer that to libraries," she said. "During the pandemic, our e-books and digital publications and resources have skyrocketed," she said. "We want to make sure that people have access to those."