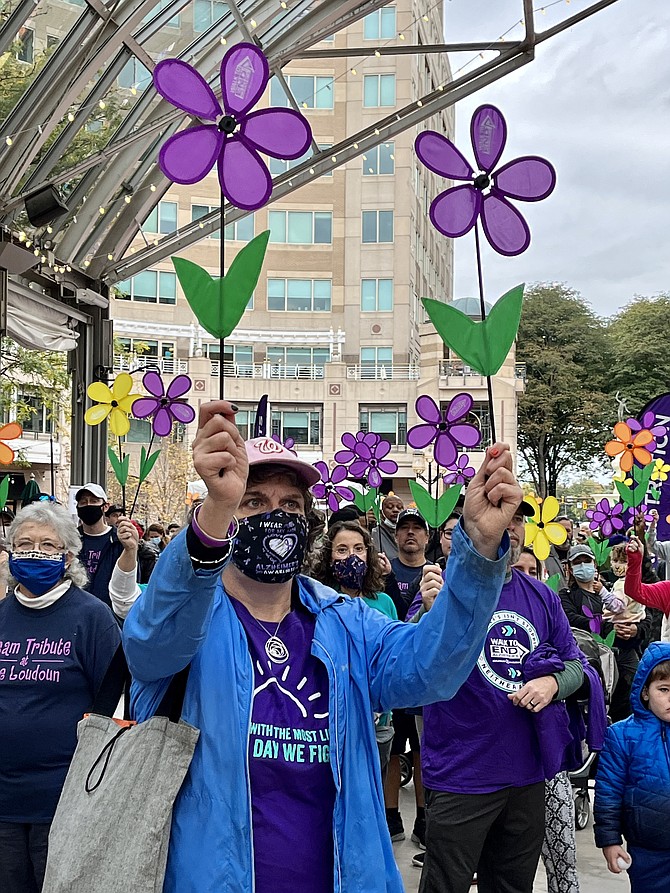 Alzheimer's disease wreaks havoc on families, financial stability, and futures. It is not just memory loss; Alzheimer's kills. The disease shows no signs of slowing down. More than 6 million people live with Alzheimer's today. By 2050, the Alzheimer's Association predicts the number to rise to nearly 13 million, unless a medical breakthrough leads to curing, preventing or slowing the disease.
Just as the disease is not slowing down, neither have the estimated 738 walkers who gathered for the 2021 Walk to End Alzheimer's in Reston on Sunday, Oct. 24. "Like flowers, we don't stop when something's in our way. We keep pushing for a breakthrough in the fight to #ENDALZ," tweeted the Alzheimer's Association National Capital Area @ALZNCA.
Numerous marchers carried a single flower, a Promise Garden of yellow, orange, blue, and purple. Some carried multiples. The flower colors served as virtual monuments to the marchers' personal experiences with the disease. According to Katie Roper of Alexandria, president of the Alzheimer's Association National Capital Area Chapter, a blue flower represents someone living with Alzheimer's or another dementia; a purple flower represents someone who lost a loved one to the disease; a yellow flower represents someone currently supporting or caring for someone living with Alzheimer's, and an orange 
flower represents a participant who supported the cause and the Association's vision of a world free of Alzheimer's and other dementia.
In 2018, the Alzheimer's Association introduced a single white flower symbolizing the first survivor, and hope. A single white blossom rested on the announcer's podium at the Reston Pavilion.
Cindy Schelhorn, senior director of communications and marketing for the Alzheimer's Association National Capital Area Chapter, said the Reston walk's goal was to raise $220,000 toward Alzheimer's disease research, and to offer care and support for all those affected. Schelhorn said they would accomplish the goal. "We are very confident," she said. The top fundraiser was Nicole Erdelyi, at $3,795, followed by Meridith Hannan, who raised $3,780.
Roper explained that walkers come to show their support for the community and raise awareness about Alzheimer's disease and all other forms of dementia. They are "here to support those who are newly diagnosed, and for those who are dealing with this devastating disease. ... 
"We're here as a resource; we're here to help support the community, and we're here to raise funds so that we can put more money towards research and caring support."
Dan Cronin is the Alzheimer's local chapter's manager of programs and services. He is responsible for the educational programs locally. "We transitioned to the virtual world. We have been delivering our educational programs via ZOOM. We have everything from a 101 to Understanding Alzheimer's and Dementia. We have the 10 Warning Signs. And we have Healthy Living for the Brain and Body. It talks about how the four pillars of good health can be applied to our everyday lives to help us age well," Cronin said.
Nicole Erdelyi, top fundraiser of the Reston event, is a member of Lizzie's team. Erdelyi said that approximately 6 million people in the United States, including 150,000 in Virginia, live with Alzheimer's disease, while over 11 million individuals in the U.S. serve as unpaid caregivers. As the disease's incidence increases, the cost of care continues to increase, already more than $300 billion annually.
"Alzheimer's is destroying our families, our finances, and our future, and it's time to end it," Erdelyi said. "The money we raise helps the Alzheimer's Association lead the way to end Alzheimer's and all other dementia by accelerating global research, driving risk reduction, early detection and maximizing quality care and support."
Erdelyi's grandmother, Agatha Rappa, died in August 2021 after being diagnosed with Alzheimer's disease in 2010. 
"My grief has come in stages as she progressed: not remembering me, not speaking, not smiling, and lastly, not eating or drinking. I walk because I have hope for a cure, and I'll continue to walk until there is a cure,"