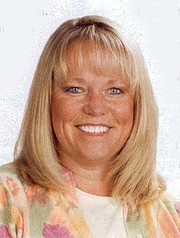 Reston — Long-time Herndon resident and volunteer Lisa Lombardozzi has been named the 2021 Northwest Fairfax Distinguished Citizen by the Powhatan District of the National Capital Area Council, Boy Scouts of America (BSA). Lombardozzi will be honored at a community event on Oct. 27 at the Riverbend Golf and Country Club.
Since 2011, Lombardozzi has served as president of the LINK food pantry, which provides emergency food and financial assistance to families in need in Herndon, Sterling and surrounding communities. Her distinguished record of service includes terms as president of the Herndon High School, Herndon Middle School and Armstrong Elementary School PTAs, president of the Herndon Women's Club, secretary of the Northern Virginia Baseball Council, and leadership roles within the local Girl Scouts and BSA.
"Lisa's volunteer efforts have touched thousands of families in the greater Herndon area over the years," said Roland Taylor, Powhatan District BSA Chair. "We are pleased to honor her and celebrate the values she shares with all of our local Scouts – compassion, action and service."
Numerous local organizations have recognized her volunteer and philanthropic achievements over the years. Lombardozzi's honors include:
Herndon Rotary Club, Citizen of the Year (2015); Town of Herndon, Distinguished Service Award (2014); Town of Herndon, Volunteer of the Year (2014); Sterling Lions Club, Lions of Virginia Foundation Humanitarian Award (2014); Dulles Regional Chamber of Commerce Education Council Volunteer of the Year (2008); Herndon-Dulles Chamber of Commerce Best of Herndon-Dulles Award (2003).
Lombardozzi is the League Administrator for the Northern Virginia Travel Baseball League, with more than 400 local youth baseball teams. A graduate of Florida State University, she has volunteered with local PTAs, church and civic groups since the 1990s. She and her husband John have three grown children and six grandchildren.
Since 2018, the Powhatan District of the National Capital Area Council has recognized a local resident with the Distinguished Citizen Award, saluting a local volunteer who shares Scouting's values and serves as a role model for youth in the community.
The Oct. 27 awards ceremony will bring together civic-minded individuals and business leaders from throughout the region in an event that recognizes and celebrates the importance of Scouting in guiding and developing today's youth.
Individual tickets and a limited number of sponsorship opportunities remain available. See http://ncacbsa.org/northwestfairfax. For information, contact Todd Bolick at Todd.Bolick@Scouting.org.