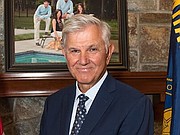 Bob Korzeniewski has been selected as the 2020 Northwest Fairfax County Distinguished Citizen for his outstanding volunteer work and impact in the community. After a distinguished business career with SAIC, Network Solutions and VeriSign, Korzeniewski has devoted the last 12 years to leading and supporting non-profit causes in the Washington DC metropolitan area.
The local Scouts BSA Powhatan District invites members of the local business community, Scouting parent or volunteer, or civic-minded citizen to join a special event on Oct. 28 in recognizing the contributions of Bob Korzeniewski – the 2020 Distinguished Citizen Honoree.
As the Executive Director of the Career Network Ministry (CNM) at McLean Bible Church, Korzeniewski and his all-volunteer team have supported tens of thousands of individuals during their job transitions. The Department of Labor has called CNM one of the finest faith-based job clubs in the United States. Through the Korzeniewski Family Foundation, he and his wife Dandy actively support a group of impactful nonprofits in the areas of education and social services.
As a native of Salem, Massachusetts, Korzeniewski grew up working at the local Boys Club, coaching high school basketball and leading local youth programs. He is a long-time big brother in the Big Brother Big Sister program, and participated briefly in the Scouting program, in addition to a host of other activities.
As a business leader, philanthropist, and distinguished citizen, Korzeniewski epitomizes the values of leadership and love of community that Scouting seeks to develop in our area's youth.
If you would like to help BSA celebrate Bob Korzeniewski's contributions to the community, and support local Scouting, you can join the event online or in-person. For additional information visit www.ncacbsa.org/powhatangoodscout.