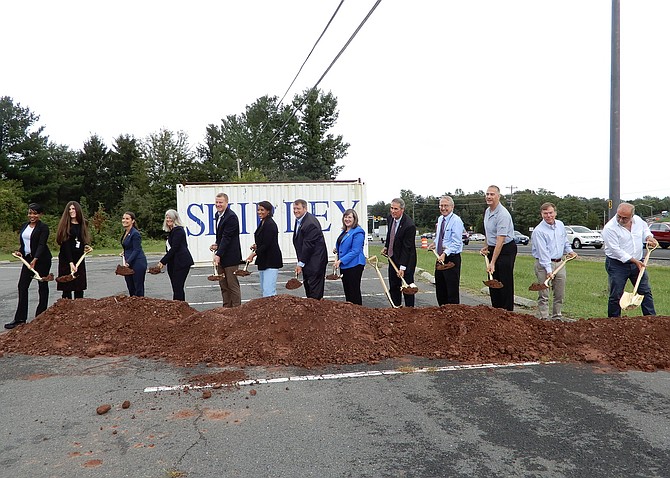 Hoisting shovelfuls of dirt into the air, local dignitaries officially broke ground, last Friday for the Route 28 widening in Centreville. Held in the park-and-ride lot of Centreville United Methodist Church, near this heavily traveled highway, the event greenlit the start of construction by Fairfax County's Department of Transportation.
The road will be increased from four to six lanes between the bridge over Bull Run (south of Compton Road), at the Prince William County line, and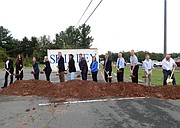 the Route 29 Interchange in Centreville. Besides widening Route 28, the fully funded, nearly $80 million project will also yield additional lanes on the side streets to ease traffic flow.
It will improve intersection operations, as well, by upgrading five existing traffic signals and improving bicycle and pedestrian crossings. Furthermore, new, 10-foot-wide, shared-use paths will be created on both sides of Route 28 and stormwater-management facilities will be installed.
Money for this project came from a variety of sources. The Northern Virginia Transportation Authority (NVTA) invested $26 million, and another $23.4 million came from VDOT via Virginia Smart Scale funds. Local government funds accounted for $10.4 million; VDOT Revenue Sharing funds, $10 million; and federal Demonstration funds, more than $9.6 million.
Attendees at the Sept. 17 ceremony included Fairfax County Supervisors Chair and NVTA member Jeff McKay, Supervisor Kathy Smith (D-Sully), Supervisor Pat Herrity (R-Springfield), Loudoun County Supervisors Chair and NVTA Chair Phyllis Randall, Sen. Jennifer Boysko (D-33rd) and Del. Danica Roem (D-13th).
"This is a momentous day to celebrate the cooperation between Fairfax and Prince William counties," said McKay. "And it will improve the quality of life for people who live in and travel through this region."
He also thanked Fairfax County's Transportation and Public Works departments, VDOT and Shirley Contracting (the design-builder) for their efforts. Regarding the financial investors, he said, "Without them, we wouldn't be here celebrating this groundbreaking. We're going to make it easier for people to work, live and play in Fairfax County, as well as to access multimodal transportation."
Smith said she and her Board of Supervisors colleagues are "committed to creating more economic development opportunities for people in our communities, varied travel options, congestion relief and better connections throughout Fairfax County and beyond. This project exemplifies that vision."
"My constituents are very glad this project is underway and they're looking forward to its completion," she continued. "It won't displace any residents or businesses or demolish any occupied structures, and we'll have the ability to easily add two more lanes, if needed, in the future." Smith also said that, because of community input, noise-barrier walls will be erected at four points along the project corridor.
Next, Herrity said, "I'm excited to see this project started and look forward to the ribbon-cutting ceremony in a couple years. It's great news for the whole region and will help alleviate congestion through the Town of Clifton and its surrounding neighborhoods in the Occoquan Watershed.
"I'm hopeful that, once the Route 28 widenings are completed in Fairfax and Prince William counties, drivers no longer hindered by delays and backups will be incentivized to continue their commute via Route 28, rather than through Clifton. And doing this as a design-build project, instead of a design-bid-build, allows the design, right-of-way and construction phases to occur concurrently and completes the work two years sooner."
Calling Route 28 a "transportation corridor of regional significance," Randall said, "Most people don't know where the Prince William, Fairfax and Loudoun counties' lines are. All they know is they want to get to work fast and get home fast."
Currently, she said, "At 2:30 p.m., from Westfields to Manassas Park, traffic will be backed up. So what we're actually doing is improving people's lives – this is for human beings." Also acknowledging the many workers who'll be "building this road in the heat and the rain," Randall thanked all of them, in advance.
VDOT's Northern Virginia District Engineer and NVTA member John Lynch said that day's ceremony marked the start of the construction phase. "But the work begins long before we get to this point, with the partnerships and collaboration," he explained. "It's one of the first projects in the state locally administered, using Smart Scale funding. And thank you to our county, state and local officials who have made today possible."
McKay also praised the patience of everyone "who lives or owns businesses along Route 28, because they'll be directly affected by this project." Overall, he added, "This is what it feels like when things work the way they're supposed to – three counties working together on a regional project. It's a massive, team effort to make this milestone happen."

The first stage of construction will include paving and strengthening portions of the existing shoulders along the entire length of the project. The roadwork will be done as follows:
In the southern portion of the project, between the bridge over Bull Run and the intersection of Route 28 and Old Mill Road/Green Trails Boulevard, construction will be completed along the outside (right) shoulder going southbound, and along the median (left) shoulder, heading north.

In the northern portion of the project, between the intersection of Route 28 and Old Mill Road/Green Trails Boulevard and the interchange at Route 29, work will be completed on the outside (right) in both the southbound and northbound directions.
In future construction stages, traffic will be shifted onto the newly paved shoulders to enable the widening to be accomplished with less impact to traffic flow during peak travel periods. Construction signs and message boards will advise motorists in advance of construction activities.