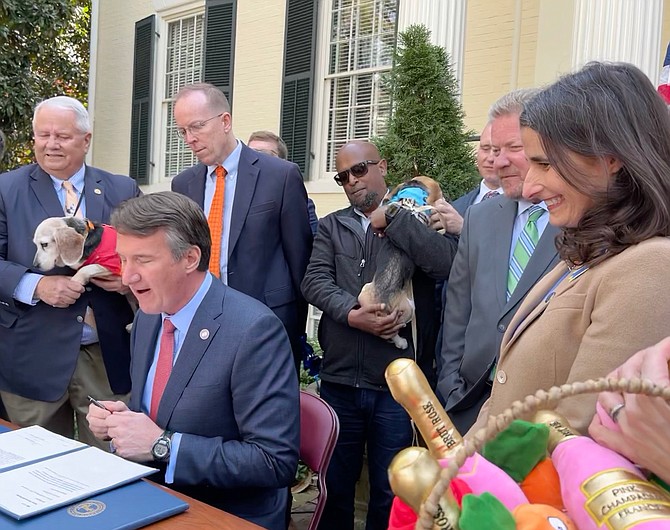 Gov. Glenn Youngkin signed five animal protection bills into law on Monday, declaring them a bipartisan success story. In addressing lawmakers, animal advocates, and dogs at the signing ceremony, he remarked that all members of the General Assembly voted for the bills; for unanimous passage. "Dogs and cats are protected by Virginia's cruelty laws and welfare standards, and they will be fully enforced."
Known as "the beagle bills", the bills specifically protect the research dog breed of choice, beagles, and cats, bred for medical and scientific research and testing. Previously, research breeders were exempt from many of Virginia's animal welfare laws. The newly enacted bills will place commercial research breeders under the same requirements as other regulated commercial breeders. The new laws cover cats as well as dogs; and require new record keeping, an opportunity for adoption consideration before euthanasia for unneeded animals, coverage under companion animal cruelty penalties; and prohibition of continued sales if found guilty of a certain number and type of welfare violations, after July 2023. Several of the beagles rescued from a life of research and allowed to be put up for adoption attended the signing ceremony with their new owners or foster parents.
In past years the hot advocacy for animal legislative action in Virginia was pet shop puppy mill sales. This year the focus of the majority of animal bills moved to protections for research dogs and cats. Members of both parties sponsored bills to address protection of dogs and cats being bred for research. Five of those 11 similar bills survived and received unanimous votes to go to the desk of the Governor, and were signed into law on April 4th.    
Many of the aspects of the similar bills sponsored by Democrats were amended into the language of those final signed bills for which Republicans Senator Bill Stanley (R-20th) and Delegate Rob Bell (R-58th) were the Chief Patrons. By working to compromise, Sen. Jennifer Boysko (D-33rd) became Chief Co-patron to the Stanley bills, and Delegate Kaye Kory (D-38th), Chair of the General Assembly Animal Caucus, became House Patron to three of the bills, assuring that all provisions of the protections were included. 
Virginia's only commercial breeder of research grade dogs, Envigo, located in Cumberland, fell afoul of federal inspectors of the U.S. Department of Agriculture.  Over the period of nine months, USDA inspectors found 73 violations of the Animal Welfare Act, nearly half of which were classified as the most serious category. Documented violations included withholding food from lactating females, euthanasia without the required anesthesia, over 300 puppy deaths, injured dogs, and poor housing and sanitary conditions. 
Original House bills sought to close the offending Cumberland operation, while Senate bills, after subcommittee amendment, allowed a one-last-chance philosophy. The subcommittee chairman, Sen. Dave Marsden (D-37th) took the position that Virginia should deal with the poor breeder operation rather than chasing them out of the state to become the problem of another. 
Envigo's abuses also came under scrutiny of United States Senators Mark Warner and Tim Kaine. In a letter dated March 31, 2022 to the Animal and Plant Health Inspection Service, the Senators urged "aggressive enforcement actions" and set an April 20 due date for response to a list of questions related to the case.
Companion animal issues often represent a significant portion of the bills considered by the agriculture committees each session at the state and federal levels. Interest in animal welfare is high, given that 68 percent of American households had a companion animal in 2021, according to the Animal Legal Defense Fund.