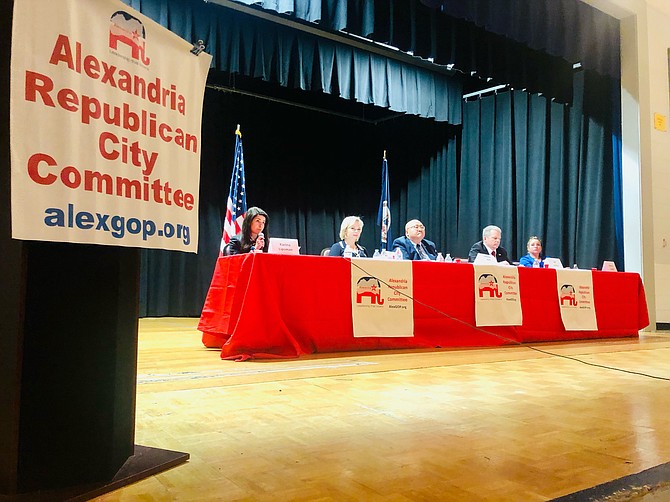 Republican congressional candidate Karina Lipsman is trying to walk back her comment that President Biden's chief medical advisor Anthony Fauci "should be jailed" a position she took during a time when she was battling four competitors to get the nomination to run in the Eighth Congressional District. Now that she has secured the nomination in a GOP convention, she is flip flopping on Fauci. In a written statement, she says she no longer stands by the extreme rhetoric that Fauci should be incarcerated even though he has never been charged with a crime.
"I do not believe Dr. Fauci should be jailed," said Lipsman in a written statement. "I do believe Dr. Fauci, and every other government official involved, need to be held to account for the actions taken during the COVID-19 pandemic that wreaked havoc on our economy, our children and our country."
Lipsman says many people are currently suffering from mental health issues and drug addictions because of the "forced lockdowns." She describes data on covid mitigation efforts as "contrary to previous messaging from our government." Ultimately, she says that she wants to go to Congress to hold government officials accountable. 
"We should expect our elected representatives to ask the hard questions of those in power and demand answers," she said in the written statement.
Through her campaign manager, Lipsman declined several requests to be interviewed for this story.
"If you can't answer questions about your flip flop, that's a problem," said Stephen Farnsworth, director of the Center for Leadership and Media Studies at the University of Mary Washington. "The idea that you don't even stand up for what you believe at the moment creates another set of problems for you as a candidate."
Since the outset of the pandemic, many people skeptical of pandemic mitigation efforts have been skeptical of Fauci, who is the director of the National Institute of Allergy and Infectious Disease. Before he lost the Republican primary for reelection, U.S. Rep. Madison Cawthorn (R-N.C.) called for Fauci to be jailed. Similarly, U.S. Rep. Marjorie Taylor Greene (R-Ga.) introduced the Fire Fauci Act, which suggests the chief medical advisor to the president "failed to provide Americans with accurate information" about the pandemic.
"Lock him up! Lock him up!" roared a crowd in Arizona earlier this year when former President Donald Trump started bashing Fauci.
CANDIDATES OFTEN moderate their positions after securing a nomination, leaving behind strong rhetoric used to jockey for position among a field of rivals. Quentin Kidd at Christopher Newport University points to former Sen. John Kerry (D-Mass.), who said he was for the war in Iraq before he was against it. Kidd also pointed to former President George H.W. Bush, who said "read my lips, no new taxes" during his campaign and then changed course after being elected. He said voters have to make a determination if the old position was insincere or if the new position is a crass attempt to win an election.
"Declining to speak directly about her changed position makes me think that she is worried that it will be seen as a crass flip flop, and that she has no other legitimate way to explain it," said Kidd.
Now that she has secured the nomination, Lipsman will face either four-term incumbent U.S. Rep. Don Beyer (D-8) or challenger Victoria Virasingh. Unlike the Republicans, the Democrats will choose their candidate in a primary election rather than a convention. The election is scheduled for June 21, and early voting has already started. A spokesman for Beyer's campaign says the congressman believes Fauci has saved lives during the pandemic.
"It is deeply unfortunate, though not surprising, that some right-wing politicians have chosen to scapegoat Dr. Fauci and other public health officials," said Aaron Fritschner, a spokesman for the Beyer campaign. "Congressman Beyer strongly opposed anti-science rhetoric and attacks on federal employees for doing their jobs during the previous administration, and he continues to be a stalwart supporter of science, and a defender of the civil service and the rule of law."
Virasingh said candidates and the right and left are guilty of using rhetoric that fuels the culture war, which she said is a distraction from issues that will help constituents in the Eighth Congressional District. When asked about Lipsman's flip flop on Fauci, Virasingh said running for Congress isn't easy.
"Karina is a first-time candidate, and when you're a first-time candidate you're learning a lot and you're building that plane as you fly it," said Virasingh. "I'd like to see a political climate that's more focused on issues and not as much on this culture-war rhetoric."
Lipsman now faces a dilemma. The people in the crowd who applauded her suggestion that "Fauci should be jailed" may now be alienated by her unwillingness to stand by that position. Similarly, voters who are wary of calls to incarcerate political opponents may be skeptical that her new position is trustworthy. Then again, some voters may never learn that she has abandoned her call to jail Fauci.
"There's the old saying in politics, when you're explaining, you're losing," said Mark Rozell, dean of the Schar School of Policy and Government at George Mason University. "Make an outrageous statement, pull it back, people will remember the outrageous statement and not the official clarification."