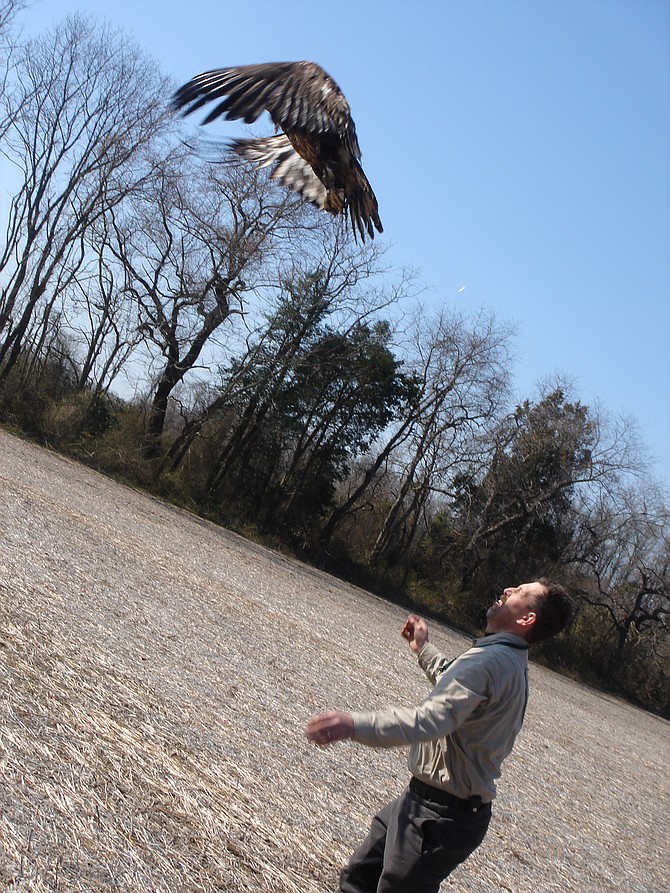 "Virginia's tidal rivers are just loaded with bald eagles," Jeff Cooper told 210 people attending the March 2 meeting of the Friends of Dyke Marsh.  These large raptors with an 80-inch wingspan regularly breed, nest, forage and migrate on and near rivers like the Potomac. People see bald eagles frequently at Dyke Marsh, Mason Neck and Fort Belvoir. Cooper is wildlife biologist with the Virginia Department of Wildlife Resources and has worked with birds for over 30 years and co-authored 17 papers.
In and around Dyke Marsh and Mason Neck, there are nests every half mile or so because there's so much food available, he said. In recent years, Dyke Marsh has had three active bald eagle nests.  
Bald eagles feed mainly on fish which they catch with their sharp yellow talons. "They make their living with their feet.  Virginia is rich in aquatic resources," Cooper said. When an eagle pair raises their young, they forage near their nest, so eaglets' success is highly contingent on habitat quality, Cooper said. Bald eagles are highly territorial and mate for life.
The Potomac and James Rivers consistently see high use by migrant and "local" eagles, breeding pairs, offspring and all age classes. From Dyke Marsh south to where route 301 crosses the Rappahannock River is what wildlife biologists call a "bald eagle concentration area." The area also has non-paired, adult bald eagles called "floaters," birds constantly roaming the landscape trying to find mates. Floater numbers are increasing because the area is so saturated with breeding pairs.  
The Chesapeake Bay is the epicenter of eagle conservation, having the densest breeding population in the lower 48 states and a critical stop on the Atlantic flyway, and northern and southern populations rely on the Bay for winter or summer habitat. 
"What happens in the Bay has an impact," Cooper said.
Belle View resident Carolyn Gamble commented, "Jeff Cooper's talk opened my eyes to how much bald eagles depend on our stretch of the Potomac River as well as the entire Bay area. I enjoyed learning from someone with many years of 'hands-on' experience and have a greater appreciation for the DWR's research."
Tagging and Tracking Eagles 
Cooper and his colleagues tag bald eagles in Virginia's coastal plain, generally east of Interstate 95. In 2007, they started tagging with cellular transmitters to trace the birds' movements. He has tagged over 130 bald eagles and over 40 golden eagles. Golden eagles are found in mountainous regions. Adults are dark brown all over with a golden sheen on their neck and head visible from some angles. Like bald eagles, they have a powerful beak and talons.
To capture an eagle, Cooper puts out road-kill deer and he hides; when the eagle feeds on the bait, Cooper shoots a 40-by-60-foot, rocket-powered net over the birds. He also uses a bow net with a leather trigger and at times to snare an eagle, puts foam in a gizzard shad to make the fish float. For most eagles, he takes measurements and blood samples, bands them and attaches a transmitter on the eagle's back. The process takes from 35 minutes to one hour.
To count nestlings and check their health, he climbs trees like an arborist. "I was put in the emergency room a few times because of eagle claws," he snickered.
Challenges
Lead levels in both eagle species are a serious threat today. Cooper cited a February paper by Vince Slabe and others with Conservation Science Global which found that nearly half of bald and golden eagles tested between 2010 and 2018 in the U. S. show signs of chronic lead poisoning. This was the first study to sample eagles across the entire country. Eagles scavenge and ingest spent lead ammunition from carcasses and gut piles left by hunters. "Chronic poisoning suggests repeated exposure to lead over the long term," the authors wrote. Lead poisoning can make birds weak, emaciated and uncoordinated, thus less able to evade predators and dangers. The study, published in Science, is at https://www.science.org/stoken/author-tokens/ST-344/full.
Collisions with both civilian and military aircraft are another threat. Cooper called Virginia and Florida "hotspots" for eagle-aircraft strikes. Most airports are located in prime eagle habitats because they are near water. Eagles are "big birds," Cooper said, and have crashed through cockpits. In the Chesapeake Bay region, there were seven airstrikes between 1990 to 2009, 18 from 2010 to 2015, and some are not reported. Cooper is working with Langley Air Force Base in Hampton, Virginia, where between 2013 to 2020, he tagged over 130 eagles with cellular transmitters for an aircraft strike study. 
Back from the Brink
Haliaeetus leucocephalus, the bald eagle, was once headed for extinction in the lower 48 states. In 1963, only 417 nesting pairs were documented.  Scientists attribute their decline to DDT and other compounds in pesticides that moved up the food chain and made eggshells so thin that chicks failed to hatch. In 1967, the U.S. Fish and Wildlife Service (FWS) put the bald eagle on the endangered species list. In 1972, Congress banned DDT and bald eagle population numbers started to rise.  In 2007, FWS removed bald eagles from the endangered species list. Since 1977, Virginia's breeding population has increased ten-fold, says William and Mary's Center for Conservation Biology website.
Mount Vernonite Greg Crider promoted the talk among his friends and neighbors and found it "very informative and interesting. Apparently, the characteristics of our area are the most attractive on the east coast which is why we are seeing more bald eagles," he said.  
You can view the presentation at www.fodm.org. Cosponsors of the meeting were the Audubon Society of Northern Virginia, the Northern Virginia Bird Club, the Friends of Huntley Meadows Park and the Friends of Mason Neck State Park.
Several live cameras monitor bald eagle nests, including nests at the National Arboretum, 
https://naeaglecam.org
, and the Dulles Greenway, 
http://www.dullesgreenway.com/eagle-cam/
.