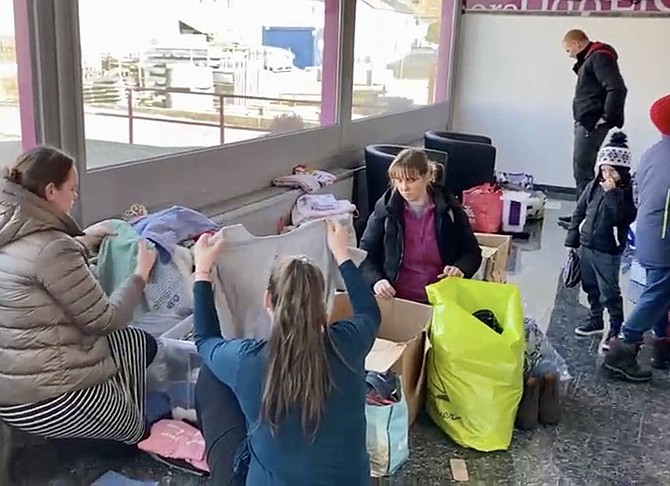 In the weeks since Russia began its invasion of Ukraine, friends see, share, and respond to social media posts and other appeals for humanitarian support of Ukraine. Responding to the crisis conditions in Ukraine and in Ukrainian refugee areas, major charity organizations are delivering support, including UNICEF, Save the Children, the United Nations World Food Program (UNWFP), the Ukraine Red Cross, International Medical Corp and CARE. 

 Photos courtesy of Linsey Wise

The Wise family, Linsey, Jackson, 4, Colby, and Harrison, 6, formerly of Northern Virginia, now reside near Ramstein Air Base in Germany, and are raising money and providing supplies for Ukrainian refugees.
Other groups whose mission is animal welfare are also at work, including the International Fund of Animal Welfare (IFAW), and the International Humane Society. 
Feeling the call to add to the international efforts, many individuals are displaying the blue and yellow Ukrainian colors, or sharing personal efforts, inviting others to join them. There are many stories of local people giving, including the yogi who once lived in Kyiv pledging class proceeds, and candle makers, cheese sellers, and restaurateurs, with ties to Ukraine, holding special events, sending proceeds.
One Northern Virginia family now working at Ramstein Air Base in Germany also feels the call to help the refugees. Colby and Linsey Wise and their two young sons have called on their state-side friends and family, and joined their German neighbors, to donate supplies for Ukrainian refugees fleeing to nearby Poland or Germany. The Wises honed their aid activities supporting Afghan refugees who were transported to the air base when the United States military ended operations in Kabul in August 2021 (See Connection, Springfield, Nov, 25, 2021, page 4-5 or www.connectionnewspapers.com/news/2021/nov/24/northern-virginians-aid-afghan-evacuee-family/)
This month, raising well over $15,000 at the time of this writing, the Wises are shopping for those donors who are not geographically close to those with need; purchasing sleeping bags, fresh fruit and vegetables, diapers, first aid kits, pet food and other essentials. 
Contributions from the Wise effort are adding to the efforts and donations of others collected by a nearby church in Germany, Agape, which makes twice weekly bus runs to the Polish border to deliver aid. 
"The Agape Church store is 100% funded by donations, and I can tell you that the refugees that have come through are so gracious and humbled by our efforts," says Linsey Wise. "There is a group of about seven Ukrainian women refugees that keep coming back to the store day after day – not to shop, but to help organize donations, restock the shelves, and do anything they can to repay the kindness our community has extended to them. How incredible is that?" 
The list of needed items changes as groups seek to meet the needs of those still in Ukraine and those who have made it out. Those at the border or still in Ukraine need sleeping bags, food, medicine, and pain relievers. The most requested items by Ukrainians there: canned meats, hard salami, and protein bars. Those who make it to Germany, but with few possessions, look for fresh food and clothing; also backpacks for children starting into German schools. 
German village grocery stores have drop boxes for food staple donations.  German churches near the Wise's village have 80 to 200 refugees per day come for food, clothes, and even crayons and coloring books to occupy the youngest refugees. Germans are offering housing in their homes, registering refugees for temporary residence in Germany to work and for school.
While Germany and Poland are doing much in the way of humanitarian support, Americans love Ukraine and the Ukrainian people too. According to the United States Department of State, "Historically, the United States is the largest humanitarian donor to Ukraine." The US has provided nearly $405 million in humanitarian assistance over eight years; and $2 billion for security assistance since 2021, including $1 billion in March 2022.  
The Wise family effort with Agape Church may not be at the level of the $35 million contribution by celebrity couple Mila Kunis (born in Ukraine) and Aston Kutcher, which prompted a thank you call from Ukraine President Volodymyr Zelenskyy.  
However every contribution, regardless of the size, matters to the Ukrainian families they touch when their homes, possessions, and livelihoods, even the very certainty of their futures, have been taken from so many.  Wise tells donors, "Donations keep on growing and we are beyond excited to be doing good things on your behalf. Thank you all for your generosity and your trust to help support the people of Ukraine."
Wise explained she's helping because of the enormity of the need right now. "Major charities are meeting immediate needs and helping right now, and their missions will also serve to help during the years and years of getting the country back to some semblance of order." She worries that too many will forget how very very long it takes to recover from losses as large as these.