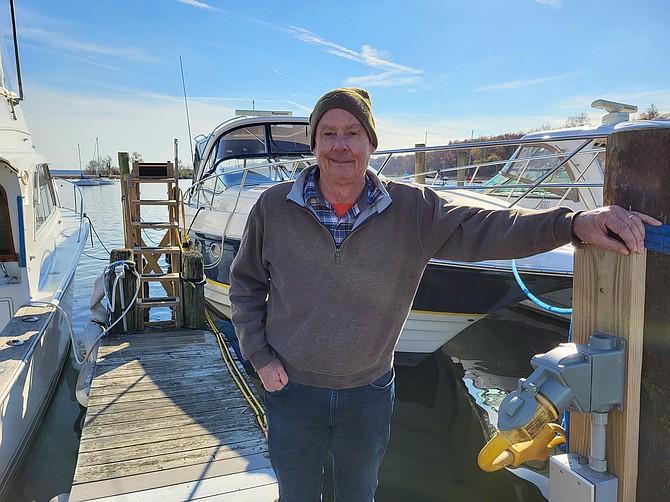 When a boat gets a name, it seems to have a new personality and a new mission in life: to live up to its name, whatever that is. Recently, Boat US released the top 10 names, and the number one on the list, "Andiamo" is also the name of a boat moored offshore at the Belle Haven Marina in Mount Vernon.
"We got one here that's named that," said marina manager Alex Tiltman, pointing out to the river where some of the boats are moored to off-shore buoys. Tiltman knows all the boats at Belle Haven. Some are on dry-dock, others in slots with wooden docks, and others moored to floats about 50 yards out in a cove.
The U.S. Coast Guard requires boats to have a registration number and a name too in most cases. Sharp's boat, "Sharp One," was named after his father's boat that burned years back. "We toyed with changing it to Sharp II but we didn't," he said. A few slots down, there is a Hatteras model boat called "Illusion," that has some history along with the owner who used to be a tugboat captain. A previous owner had a baby on the boat, and at another time it sank to the bottom of the bay it was in.
The current owner, Allen Foote, is a relative of Andrew Hall Foote that Fort Foote is named after. Fort Foote is directly across the river from Belle Haven marina, and with all that harbor atmosphere in his blood, he's just happy to be on the Illusion while it sits in the harbor slot.
Foote recalled the story behind the Illusion. One of the past owners of the Illusion was from Arizona and had little boat experience before she found herself living on a boat with her husband and having a baby right on the boat. This was all an illusion of what she thought it was going to be like, and the weather was a big factor compared to life in Arizona. 
The boat in the water, the rocking motion, the breeze, water birds, and sunshine is all part of it as well as the tight quarters and other boat-life elements. 
"Feeling that motion puts one in a totally different state of mind," said Foote.
Jim Brown lives in Old Town and has had a few boats over the years that had one thing in common when it came to a name – the color blue. When he got his first boat, it was a clear day with blue skies, so he named it "Blue Bayou," for a friend who is from Louisiana. He held a contest amongst friends for his next boat and came up with Deja Blue, and then Easy Blue for the current boat. 
"Once upon a time, my swimming partner and I were swimming along and chuckling about how much fun it is to be out on the boat and she said 'yes and the champagne sure goes down easy'," and it stuck as the boat name.
The stories don't stop when it comes to boat names, but over at Boat US, other names on the top ten list include "Osprey," which bumped "Social Distancing," from the list over the last year. It is followed by Serenity, Encore, Zephyr, Second Wind, Adventure, Knot on Call, Shenanigans, and Grace.
Boat names may have some reflection of the time too. In 2011, the top boat name was was "Aquaholic," followed by "Andiamo," again and "The Black Pearl," as number three, possibly after Johnny Depp's pirate Jack Sparrow in Pirates of the Caribbean: Curse of the Black Pearl. 
Some names push the envelope too, like "Feelin' Nauty," a top name in 2019, or "Dirty Mines," a boat Tiltman saw while he was living in the Outer Banks. It was owned by a miner from West Virginia.