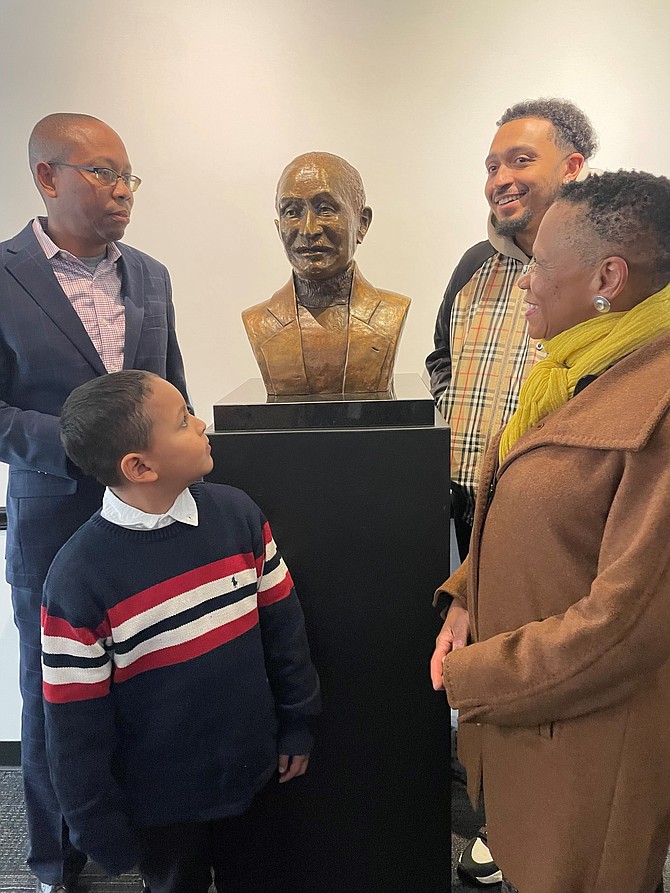 A. Melvin Miller, a Civil Rights activist and affordable housing advocate, was honored Nov. 17 as the Alexandria Redevelopment Housing Authority renamed its Wythe Street headquarters building in his honor. The ceremony also unveiled a bust of the late community leader.
"This is truly a wonderful day for my family," said Miller's daughter Ericka Miller. "We are so honored to see my dad remembered in this way."
Miller served as ARHA board chair from 1970-1977 and again from 2001-2012. He died in 2015 at the age of 83. He had a 35-year career at the U. S. Department of Housing and Urban Development, where he served as Deputy Undersecretary during the Carter Administration and Assistant Deputy Secretary from 1997 until his retirement in 2014.
"Is there such a thing as a diminutive giant?" said former DC Deputy Mayor Merrick Malone, who is a member of the ARHA board of commissioners. "That's who Mel was. He touched so many lives and was a fierce advocate for the underserved. Our city is a much better place because of Melvin Miller."
Following two years of service in the army, Miller moved to Alexandria in 1958 to launch a criminal law practice. He worked pro bono on school desegregation issues and became an advocate for the underserved, notably regarding affordable housing.
"Melvin's work with ARHA was both noteworthy and instrumental in changing the dynamic for families needing support in the housing arena," said John Porter, a member of the committee that spearheaded the renaming of the ARHA building in Miller's honor. "He was always looking out for those in need of support and doing what he could to help make things right for others in our community."
One of Miller's hallmark accomplishments was the negotiation of Resolution 830, an agreement between ARHA and the city that no public housing in Alexandria would be demolished unless there was a provision for one-to-one replacement.
"My father dedicated his entire life to helping improve the lives of others and his passion was making housing accessible, affordable and available," Ericka Miller said. "He knew that was the way to help people move out of poverty and into situations where they could improve their lives."
In addition to new lettering on the building with Miller's name, a bust of Miller by Torpedo Factory artist Tatyana Shramko was unveiled in the building's lobby.
"My dad would be truly humbled by this," said Marc Miller. "ARHA's mission was the mission of my dad – helping people and giving them a hand up. I hope that everyone who works here or comes to this building will remember not only the work that my dad did but will also be inspired to pay it forward."