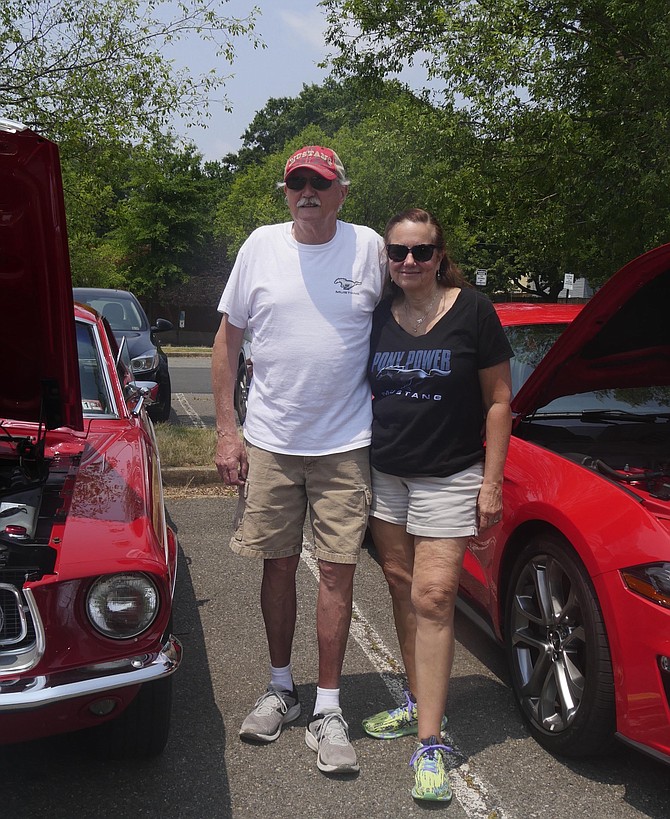 Five-year-old Cherish and four-year-old Karleigh enjoy their snow cones while their grandmother, Portia Clark, makes homemade lemonade at the table nearby. Clark is a 
It is 12 noon, and already 15 antique cars sit side by side in the Dr. Charles R. Drew Elementary School parking lot for the 9th annual Green Valley Antique & Classic Car Show on Saturday. A volunteer gives each car a number for the People's Choice Award "and they will win that big trophy over there. Oh, look, here come some more cars."
Dr. Alfred O. Taylor, a long-time Arlington leader, sits with Gail Adams Hunter at the Civic Association table with the shiny People's Choice Award which will be handed out at the end of the day to the most popular car.
Bob and Debbie Strauss stand between their red 1968 GT Ford Mustang and their red 2018 Ford Mustang produced for the 50-year anniversary. "I am the original owner of the 1968 car; not too many people have held on to their cars for so long." 
Both Bob and Debbie have spent their careers at Wakefield High School. Bob just retired two years ago as assistant director for student activities, and Debbie is still a special ed assistant for math. "These cars need to be driven, but not to work," Debbie says. Both of the Strausses grew up around cars. 
"I like classic cars and I like classic men," Debbie explains.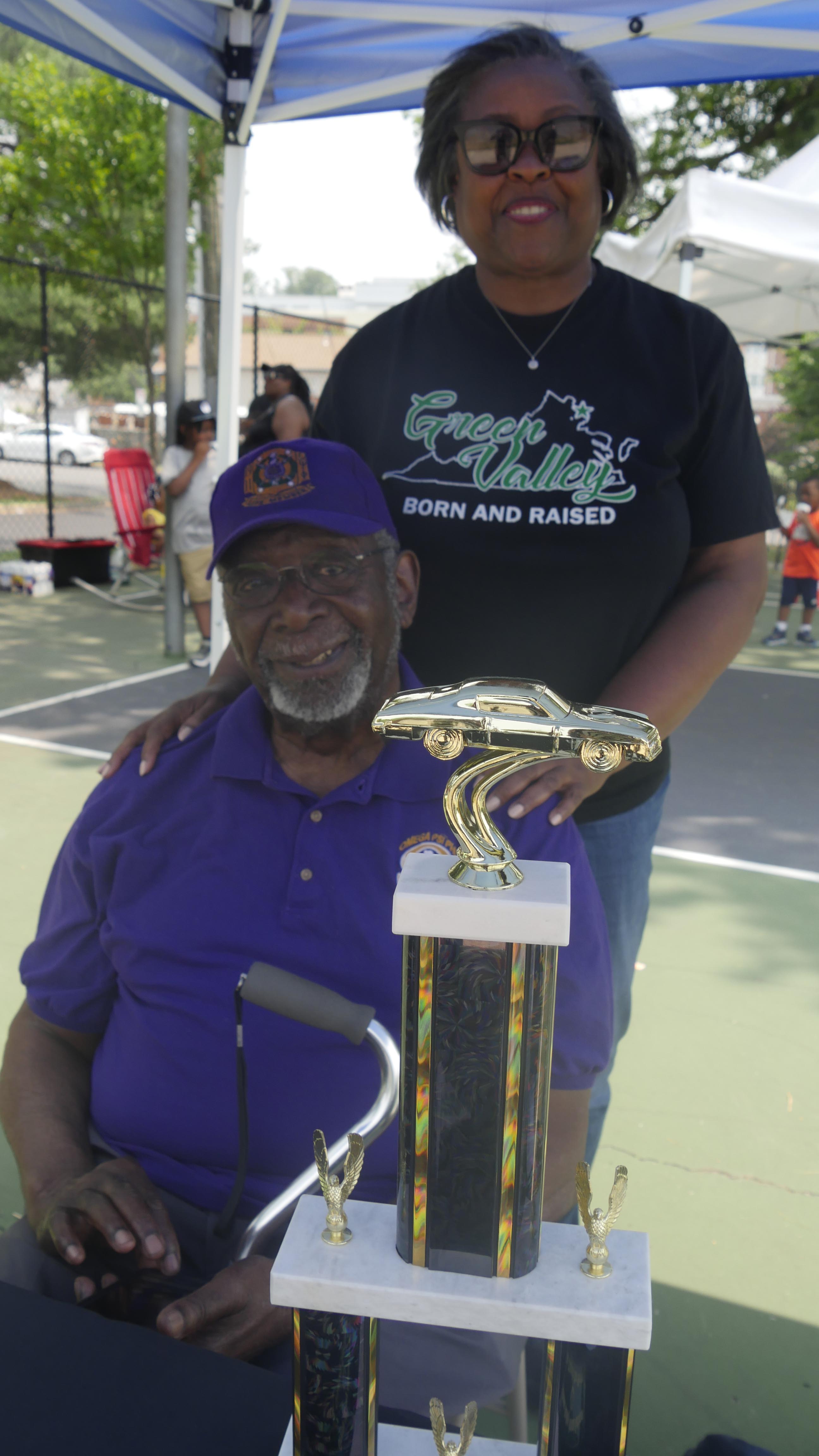 Dr. Alfred O. Taylor Jr., a local legend and community leader, and Gail Adams Hunter sit at the Green Valley Civic Association information table where the trophy for People's Choice Award is on display. A 2020 Chevy C8 Corvette sits down the row with the rear engine compartment open. Clyde Pelzer says, "Take a look at the engine. This is first year they moved the motor from the front to the rear. It's a whole different car with the latest technology—WIFI, lane indicators, and of course it's fast." Pelzer explains he has owned five Corvettes. "I've always been a Corvette guy since I was 12-years-old with my go-cart. I called it my first Corvette."
Number 17 is a 1972 yellow Volkswagen which was purchased in September 2001. "I've been a bug man all my life. I've owned at least 21 VWs. I buy them and then turn them around." Sitting side by side is a gray 1966 VW rebuilt from scratch. It took Richard Green 2-1/2 years to turn the burned out hulk into a new car. He says he had a VW as a kid and has always grown up with them. "I had a little extra money one day so I just did it. I don't know how much it all cost; I think I don't want to know."
Across the schoolyard several stands are set up offering snow cones, information about the Green Valley Civic Association and homemade lemonade made on the spot by Portia Clark, President of the Civic Association. Smoke wafts down the sidewalk from First Impression Soul and Seafood Carryout located on Shirlington Rd. The team has been smoking ribs for four hours over oak logs alongside half smokes and fish sandwiches.