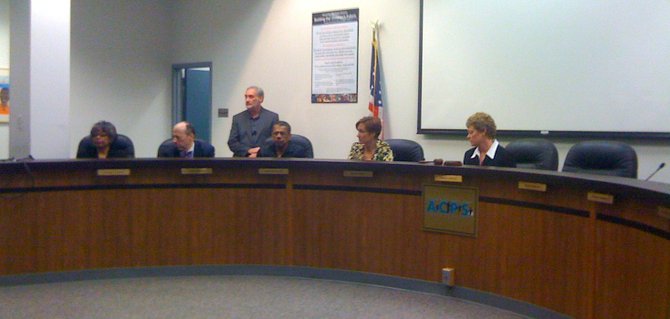 Alexandria Superintendent Morton Sherman, standing, waits for School Board members to call an executive session to consider the division's response to a scathing auditor's report.
Stories this photo appears in:

Controversial superintendent oversaw school system during tumultuous five-year term.
As members of the Alexandria School Board were behind closed doors in a one-hour executive session last week, Glenn Hopkins was thumbing through a draft report he was preparing to the release from the Student Achievement Advisory Committee.

Seven new School Board members augur change.
The past few years have been chaotic at the Beauregard Street headquarters of the Alexandria City Public School system, which has struggled to cope with failing test scores as a parade of administrators have come and gone.

Members regret what happened, but feel confident superintendent took decisive action.
Members of the Alexandria School Board are standing by embattled school superintendent Morton Sherman, despite calls for him to step down in the wake of a scathing auditor's report.