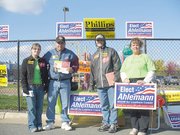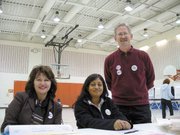 It started cold and rainy, but the weather didn't stop early morning voters from visiting the polls to vote. Those who distributed political flyers at Park View High School reported that the turn out was good throughout the morning in spite of the cold and wind. Austin Brown, chief officer for precinct 210 in Sterling, said there was a line of eight people at Potowmack Elementary School before 6 a.m.
"Freedom isn't free and in democracy people get the government they deserve. People need to participate," Brown said.
Dominion Trail Elementary School was also busy with 385 voters passing through before noon. Audrey Oliver, chief officer for precinct 811, said she's been working at the polls for 10 years and is pleased to have more volunteers this year. There is an increase of people helping at the polls for the first time. Dave Nemetz said he's helping because he heard there was a need for election officers this year.
Tina McGuire, first time election volunteer said, "I'm working because I want to do something good for the community.