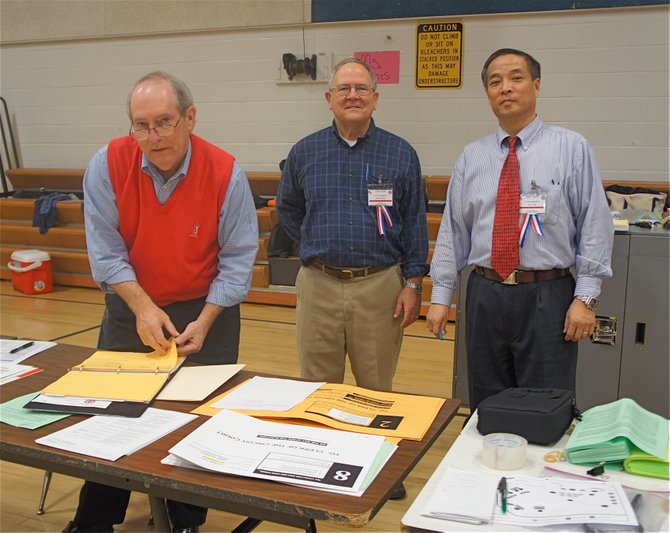 At 6:01 a.m.—29 degrees Fahrenheit. There is just a hint of sunrise brightening the darkness, but there are already some 50 people forming a line in the parking lot of Herndon Elementary School on Dranesville Road. Eric Boll has been there since 5 a.m. handing out sample ballots and offering assistance, standing behind his table with "Obama/Biden" signs clearly displayed. "This is personal for me. I just got a quote for COBRA health insurance for $58,000. There's no math to be done. That's personal and I need to be here, to do whatever it takes or this country's toast." Just a few feet away, his Republican counterpart, asked to be identified only as "Dolby," is also armed with sample ballots and conviction. "No tables or donuts for us," he said. "We represent the humble."
Inside, the line snakes once, twice, then three times before depositing the next person up into the school's gymnasium. Once identification is reviewed and precinct-voting rights established, there's still a line to enter one of the voting booths carefully arranged around the sports floor for maximum efficiency, flow and privacy. It's Election Day in America, and here at Precinct 319 in Herndon, the people are ready to cast their ballots.
Considered a critical swing-state for the presidential election, and with several hotly contested seats up for grabs to represent the state in Congress, Virginia voters have been subjected to more political ads than ever, more robo-calls, doorknockers and campaign mail-outs. "I know it's all part of the process," said Griffin Montgomery as he waited patiently for his turn to get reach the warmer inside lines. "But I got to say I am so glad this is it. I was starting to see those ads in my sleep."
BY 6:28 A.M. Precinct Chief Election Officer Robert Walker reported a rough count of 100 voters already through the process. "That's a good number," he stated. Walker has been working the elections since the first Clinton presidency. "I'm an attorney. I got 'volunteered' when the election folks contacted the Bar Office looking for more help. I've worked at other polling places, but this is my home precinct. I'm glad to be here, doing this."
Less than two miles away at Herndon Middle School, with more room to work with, election officials made the decision to bring the whole line inside and out of the cold. It was a daunting sight to see upwards of 200 people on a line that stretched nearly the length of the building, but the waiting voters only expressed gratitude to be warm, and were pleased that the line appeared to be moving quickly. Here Chen Yang presides as chief election officer for Precinct 324 with his two assistants and 14 additional volunteer election officers. Yang came to the United Sates as a graduate student. "This is part of how I pay back to the country that I have received so much from. I love to see an election," Yang declared with enthusiasm rarely seen at that hour of the morning. "It's going well. About 280 people voted in the first hour. No problems. We did have a few voters at the wrong place, so we made sure they knew how to get to the right precinct for them." Yang reckons that number is on pace with the 2008 election.
South across the Dulles Toll Road, the voting venue is a little out of the ordinary. With barns in the background and surrounded by horses, cows and other livestock grazing peacefully in green, the constituents of Herndon's Precinct 235 casts their ballots at Frying Pan Park Visitors' Center. It's a setting known more for farmers' markets, horse shows and the chance to pet the friendly farm inhabitants than for hosting the public as they practice the fundamental principle of democracy. Precinct resident and Election Officer Betsey Kodat stands in the doorway, greeting friends and neighbors, with a special welcome for the little ones she calls "Voters-in-Training."
"This is a wonderful precinct," said Kodat. "The turnout is always good. We had our first voter waiting in line at 4:45 a.m. and it's been pretty steady since." Douglas Pratt, the Precinct 235 chief, agreed. "The official count is 380 through 8:30, but that's probably short since we had to reset the system. Our voters are really committed. We even get pretty strong turnout for local elections and for the primaries." Pratt reported a few other mechanical glitches. "You go to plug in the ballot box and the plug snaps off and falls inside. How did we get to the moon?" he questions with a laugh. "We had a few other minor problems," he added, "but Fairfax County has runners, technicians who can deal with most of the problems, and they were here super fast. All is well now." None of those waiting seemed to notice anything amiss.
DESPITE the often divisive and hostile aura surrounding these elections, the early morning activity at the polls was generally more than cordial, with something of a block party atmosphere. Regardless of who they supported or what the outcome, this morning they were neighbors on a long line. At Herndon Elementary, people pitched in to help an elderly gentleman get his walker up on the sidewalk and then get himself stabilized. At Herndon Middle School, a group that had come out together offered their spot in line to a young mother with one in a baby carrier and another holding tight to her sleeve. At Frying Pan Park, one man gave up his much-coveted up-close parking lot when he saw a couple with a handicap sticker, but no spaces remaining for the permitted disabled.