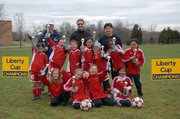 Following a championship win at the VIP Columbus Day Tournament, the VYS Comets captured the U9 Girl's Division Championship at the FPYC Liberty Cup Tournament. The Comets went undefeated with a 4-0 record.
The Comets started with a 7-1 win against the BRYC Fire. Later that day, the Comets came out on top of a great match, beating LOUD White 2-1.
Their third win, against the SYA Xplosion, in a 6-0 decision, solidified their spot in the finals against the SYA Blaze. The Blaze also went undefeated in their tournament bracket until they faced the Comets in the championship match up – a hard-fought battle with a tremendous amount of hustle shown on both sides.
In the end, the Comets' speed and agility blazed their path to victory. The Comets took an early 1-0 lead which they held until the second half when the Blaze came back to tie the game.
With just over five minutes left, the Comets reignited their offensive attack and scored the game winner with just over a minute remaining.