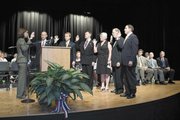 Fairfax City welcomed it newest City Council, School Board and returning mayor Tuesday night as they were officially sworn into office at Sidney Lanier Middle School. Originally scheduled as an outdoor event at Veterans Amphitheater on the grounds City Hall, the venue was changed only hours before due to rain.
After introductory remarks by outgoing City Council member Scott Silverthorne, the floor was given to Mayor Robert Lederer, who will be serving his fourth term as mayor of Fairfax.
"It truly does seem like it was just yesterday," said Lederer, referring to his first swearing in ceremony in 2002. "It is an honor to be elected by the same community I moved into 52 years ago."
The scene was a mix of old and new, as the city elected three new City Council members last May in David Meyer, Daniel Drummond and Steven Stombres, along with returning members Gary Rasmussen, Jeffrey Greenfield and Joan Cross.
"Tonight we begin the next chapter of the City of Fairfax," said Stombres, who tied fellow first-time Council member David Meyer for the highest vote total among all candidates, incumbents and challengers. They both racked up 1,974 votes each.
"This is an oasis of 23,000 people surrounded by a county 1.1 million [people]," said Meyer. "This place is a gift."
WHILE FIRST-TIME inductees took time to thank their families, friends, staff and the voters, veteran officials used the occasion to tout their past accomplishments and reminisce about how far both they and city have come over the years. Lederer listed the use of bond referendums to build a new police department and expand City Hall and the dedication of new elementary, middle and high schools.
"But to me, the best part of this list of achievements is the fact that we've done all this and at the same time [have] the lowest overall tax burden and the highest level of services in the region," he said.
Returning School Board Chair Janice Miller was first elected in 1977. In welcoming new Board members Tobin Sorensen and Elisa Lueck, Miller spoke about the state of Fairfax City schools when she first arrived.
"Music and art were taught by classroom teachers," Miller said. "Special education was a pilot program. Who knew about ADD, autism or English as a second language? Certainly not anyone who sat on the School Board.
Lueck, Sorenson and Miller will join Julie Knight and Jon Buttram, both of whom were also reelected in May to the city's five-member School Board.
MULTIPLE SPEAKERS touched upon the theme of change throughout the ceremony, the result of an election which, for the first time in three, two-year election cycles, did not return all six incumbent City Council members.
Lederer remarked that the voters sent "a clear message that this aggressive agenda must now be balanced by careful and prudent management." He followed this up by announcing that he will ask the council to form a budget committee composed of two City Council members, the city treasurer, the commissioner of revenue, the School Board chair, city staff and one citizen at large. The committee will examine the financial soundness of the city's current budget as well as getting "a running start" on next year's budget.
When their own words would not suffice, quotations from Thomas Jefferson, Alexis de Tocqueville and Franklin Delano Roosevelt were used to fill the void. Still, others kept their motivations simple.
"I love school," said incoming School Board member Sorensen, after rhetorically asking why she ran for a seat on the School Board in the first place.
Council member Gary Rasmussen, a veteran of 18 years on the City Council, summed up what he believed to be the overall point of the evening.
"Much has changed since I was elected 18 years ago, but much is also familiar," Rasmussen said, in a line that could apply to both the city and the new-look council he serves on. "We hold onto the familiar and welcome the new."