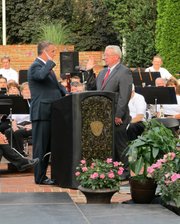 Speaking at swearing-in ceremony, R. Scott Silverthorne promised to recognize and reflect the city's growing diversity as he became the 10th person to serve as mayor of the City of Fairfax on Wednesday, June 27.
"It's no secret that our community continues to diversify," Silverthorne said, before 200 guests during the outdoor ceremony held at the Veteran's Amphitheater.
"When (former) Mayor Rob Lederer graduated high school, our minority population was just over 2 percent. When I graduated high school ten years later, the minority population was 8 percent. Today, it's 40 percent," Silverthorne said, noting that in the Fairfax County school system, more than 100 languages are spoken.
"I believe we have turned a blind eye to this trend – a trend we must not ignore. As mayor, I will do all within my power to see that every citizen of the city has an equal opportunity to participate fully in our community," Silverthorne said, adding that, as a first step, he would ask the city council to diversity on its boards and commissions to "accurately reflect the community."


SILVERTHORNE, a former city council member, won the seat his father - former Mayor Frederick W. Silverthorne - occupied from 1978 to 1982.
"My father taught me the importance of public service, and that you have no right to complain if you're sitting on the sidelines. It is not lost on me, that I'm assuming the office of mayor a full 30 years following my father's departure from elected service," Silverthorne said.
He noted that every city council member campaigned that a growing local economy is key to the City's long-term health, and that it was time to develop a citywide strategic plan and "perform a long overdue review of our city charter."
"I am asking each and every one of you – as business people, residents, and elected officials to help in this effort, to keep an open mind, and to keep eyes on the future of our City," Silverthorne said.
He also promised to focus energy on the redevelopment of Fairfax Boulevard and continue the progress in historic downtown.
"I will also urge the city council to pursue opportunities to streamline City government, including a top to bottom review of the regulatory burdens for starting or expanding a business," he said.
Silverthorne also thanked his mentor, retiring Mayor Rob Lederer, who served five terms.
He noted the city's accomplishments under Lederer's leadership, including the ranking by Forbes as the 3rd most "livable" community in America and the Gold Medal Award by the National Recreation and Parks Association – one of only four jurisdictions in Virginia to receive this prestigious award over the past 40 years.
"Well done Mr. Mayor," Silverthorne said. "I am very proud of our new city council tonight. You don't have to look far – only across the Potomac – to see how not to govern," Silverthorne quipped.
In addition to Mayor Silverthorne, members of City Council were sworn in including newcomer Michael DeMarco, and returning council members Daniel Drummond, Jeff Greenfield, David Meyer, Ellie Schmidt and Steve Stombres. The City of Fairfax School Board was also sworn in during the ceremony, including Chair Janice Miller, Jon Buttram, Tobin Sorensen, Carolyn Pitches and Mitch Sutterfield.
Attending the ceremony were Senator Chap Petersen (D-34), Delegate David Bulova (D-37) and former Mayor John Mason.
Silverthorne, a former 18-year council member, retired in 2008 after serving nine terms. In 2011, he was appointed to serve out the term of council member Joan Cross, who stepped down on June 28 for health reasons. She died one month later at age 68.


AS MAYOR, Silverthorne, presides over council meetings, has veto power that may be overridden by a two-thirds vote of the council, represents the city for ceremonial purposes and votes only to resolve ties. The City Council determines policy, enacts ordinances; levies taxes, adopts the budget, borrows money; provides for organizational conduct and operation of all departments, bureaus, boards, commissions, offices and agencies of the city; appoints the city manager and members of advisory boards and commissions.