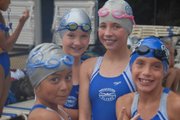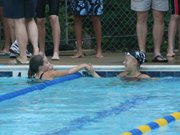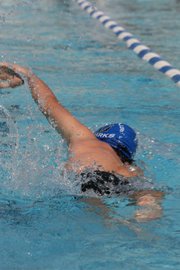 The Franklin Farm Froggers took second in the CSL All-Star Relay Carnival at Sugarland Run on Sunday. The Froggers won three relays on the day and scored 386 points to take the silver. The Froggers, the defending Relay Carnival champs, were edged out by Ashburn Village, which won eight events and scored 456 points. The Burke Centre Penguins finished in third with 310 points. Cascades (302) finished fourth and South Riding (252) rounded out the top five. The Ashburn Village mixed 9-10 100-yard freestyle relay of Helena Wang, Will Sherman, Austin Chen and Andi Mack broke the CSL record with time of 2 minutes 8 seconds.
<hr>
Kings Ridge hosted its last Division 16 NVSL home meet of the season against Annandale on Saturday, winning 202.5-199.5. The King Ridge swimmers who placed first in freestyle were, Mason Izadpanah, Tyler Speaks, Jack Thomas, Thomas Friestad and Emily Normandy. Backstroke winners were Wilson Friestad, Tyler Speaks, Anna Ready, Jared Berman and Emily Normandy. The breaststroke winners were Wilson Friestad, Anna Kate Fahey, Matthew Dickerson, Elizabeth Roberson and Chelsea Hewitt. First in butterfly were Jack Thomas, Brittany Henry and Chelsea Hewitt. Kings Ridge's graduating seniors that will be missed next year are Michael Roberson, Hailey Hewitt's and Erin Duffy.
<hr>
The Burke Centre Stingers got caught by the Rapids in their first loss of the season Saturday at Cascades in a hard fought meet, while still managing to come up with 41 personal best swims. The 15-18 boys, led by triple-winner Nick Leverone, came on strong, winning most of their events. The 13-14s had two triple winners – Johann Shim and Rachel Canty. The 9-10 boys relay team of Sean Poling, Caleb Hicks, JP Boland and Weslee Richmond nearly won their relay, but did knock nearly two seconds off the team record they set three weeks earlier posting a new record of 1 minute 15.13 seconds.
<hr>
The Fairfax Station Flyers were champions of the NVSL Division 2 Relay Carnival held Wednesday, July 9 at Donaldson Run in Arlington. The final score of the meet was Fairfax Station (208), Tuckahoe (176), Oakton Swim and Racquet (158), Hunter Mill (154), Donaldson Run (140) and Vienna Woods (126). The Flyers qualified 17 of 22 relays for All Star Relays, to be held July 16. Fairfax Station used that momentum to defeat Tuckahoe, 219-183, on Saturday with a standout individual performance by senior Michael Jewell, who broke the 15-18 boys 50 butterfly record in a time of 26.91 seconds. The 13-14 girls relay team of Maggie Rodgers, Jordan Parry, Taylor Parry and Caitlin Rider broke the 13-14 girls 100 medley relay record.
<hr>
On Sunday, July 13, 109 divers from across the region competed in the Northern Virginia Diving League within the NVSL held the 41st Annual Wally Martin 3-Meter Championship. The divers represented 31 of the league's 47 pools from across Fairfax and Arlington Counties, and the cities of Falls Church and Alexandria. The meet is named in honor of Wally Martin, who was the dive coach at Tuckahoe in McLean. Wally was one of the leaders who brought diving to the NVSL in 1961. Divers, ranging in ages from 8 to 18, competed in four different age groups. Kim Pilka of Great Falls won the senior girls event with 219.30 points. Trevor Michalak of Ilda Community won the senior boys gold with 238.95 points. Maggie Cullather (Camelot Community Club) and Nathan Michalak (Ilda Community) won the intermediate girls and boys titles, respectively. Allison Stickel of Vienna Woods won the junior girls with 135.12 points, while Alex Daloane of Truro Homes Association won the junior boys with 102.09 points. Fairfax Station's Teal Schuppin won the freshman girls and Lee Graham's Tucker Smith won the freshman boys.