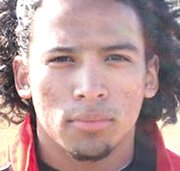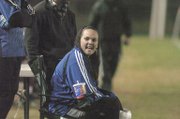 For the most part, Santos Cerda's high school soccer career at South Lakes was played under the radar.
Cerda, who recently graduated with his fellow South Lakes seniors, epitomized everything Seahawks' coach Corrie Adams stresses to her players about soccer — good sportsmanship, a team-first mentality and all-out hustle and passion for the game.
This upcoming school year, Cerda will be playing soccer collegiately at North Carolina Wesleyan (NCAA Div. 3). There, his coaches and teammates will likely learn that Cerda's game revolves around getting others involved in the action and doing what is best for the team.
That is certainly the way he played the game at South Lakes, where he was kind of a quiet, impact player who took more pleasure dishing out assists than looking to score himself. During his sophomore, junior and senior seasons, Cerda led the Seahawks in assists. This past spring season as a senior, he accumulated 12 assists for a South Lakes squad that experienced one of its better seasons in recent memory, although it did not qualify for the Northern Region tournament.
His stellar season of play earned Cerda First Team All-Northern Region and First Team All-Liberty District honors as well as Second Team All-State accolades.
Cerda said his unselfish style of play is a reflection of what he learned from his former travel coach — Myron Garnes— over the past several years as a member the Reston United select team.
"He would say to me, `Why do you make hard stuff look easy [by forcing the action], and the easy stuff look hard,'" recalled Cerda.
Garnes' point was that Cerda needed to make the pass when it was there and to take a shot when it opened up as well. He encouraged Cerda not to force the action, but to let the play of the game come to him.
"In the end, [that mindset] helped my team," said Cerda.
<b>CERDA</b> is the first South Lakes boys' soccer player to earn First Team All-Region honors in 12 years. He scored just two goals his senior season, and coach Adams said she wished Cerda had looked to the goal more often. But Cerda was still a game-changer with his ability to get his teammates into the action and into the scoring column.
"He really did have a phenomenal season," said Adams. "He wasn't the big finisher we anticipated, but he was our leading assist [player] for the third straight year."
The coach loved her talented players' solid mindset, attitude and work ethic.
"He always represented us extremely well on and off the field," said Adams. "He has a great amount of sportsmanship and is a hard worker. He's a phenomenal athlete and young man."
Cerda played four varsity seasons for South Lakes. He began his freshmen season playing on the South Lakes JV squad before being called up to varsity later that season. He said he did not get much varsity time that season, and that he lacked confidence.
"Guys were bigger than me and more focused," he said.
But before his sophomore season, Cerda, playing for coach Garnes' Reston United team, honed his skills and confidence at the Dallas Cup tournament in Texas. The high caliber of play there challenged him to become better and gave him a more confident outlook for his sophomore season at South Lakes.
"That tournament just boosted me to a whole other level," said Cerda. "It was a faster pace [at the Dallas Cup] and everyone was good. When I came back I played with everyone else and felt like I was at a high level."
His on-field strengths as a varsity player have included his dribbling and passing skills, as well as his uncanny ability to come from behind and take the ball away from opposing players.
"He's deceptively swift," said Adams.
As a senior, South Lakes was hurt by numerous injuries to key players. As a result, Adams had to constantly re-shuffle her line-up. Cerda played several roles for the Seahawks this spring, spending time at striker, wing, forward and halfback positions.
"He filled in wherever we needed him," said Adams, of the steady Cerda.
The coach said Cerda, in regards to offense, has always looked for the best avenue in which his team can score. Quite often, that has meant getting the ball to a teammate whom is in a position to perhaps get a good shot off on goal.
"He's one of those athletes who is very unselfish with the ball," said Adams. "If he doesn't feel he has the best angle, he'll pass the ball to another kid. He was a team player all around."
Adams said Cerda's maturity, positive demeanor and knowledge of the game have lent itself to him being a natural leader for South Lakes.
"He's kind of been my player-coach for a couple of years now," she said. "He really knows the game and the dynamics of the game. The kids really do respect him and know what he's talking about."
Cerda earned Second Team All-District honors in both his sophomore and junior seasons before breaking through and gaining First Team recognition his 12th grade season. He was named South Lakes Team MVP in both his junior and senior seasons and also earned the team's Leading Assists Award this spring.
He also was a nomination for the prestigious Mark McGinley Scholarship Award, given to 10 area senior year athletes who excelled in sports and academics and who are headed to four-year colleges on partial athletic scholarships. The award is named after McGinley, a former Madison High athlete who died in New York City during the September 11 attacks in 2001. McGinley, as a student-athlete at Madison, epitomized the hard-working student-athlete who got the most out of his abilities.
"He's a respected player around [Fairfax] County and a really good role model for our team," said Adams, of Cerda.
<b>A YEAR ROUND</b> soccer player, Cerda has been playing the sport since he was a young boy. His mother used to take him out and kick the ball with him. He soon began playing within the Reston Youth Association house league where he made all-stars. Later, at age 10, he began playing for the Reston Rapid Fire travel team, and several years later he played with Reston United and at South Lakes.
He said he thoroughly enjoyed his senior season as a Seahawk. He loved playing with two of his best friends, fellow seniors Kyle King and Mohamed Ahmed.
"It was fun," he said. "If you're not playing for fun, what's the point? Every game was fun and playing with the other seniors was great. Yea, we wanted to go farther [than we did]. But as long as we played better [each game] we were happy."
Now, he is ready to embark on the game at the college level at Virginia Wesleyan, a school that has won three of the past four Div. 3 national titles. Cerda, a good academic student while at South Lakes, accepted an offer to attend and play soccer at the school earlier in his senior year.
"It's a smaller school which meets his needs to a tee," said Adams. "He had a lot of options. He should play as a college freshmen."
Cerda looks forward to playing at the collegiate level.
"Hopefully, I can go in there and keep the same intensity," he said. "It's a whole other level from high school to college. It will take time [to adjust]. I play the game at a high pace as it is. To be honest, I can't wait for it because I want to be pushed to my peak. I love soccer."
Cerda, who said he wants to study business in college and to one day be involved in soccer from either the playing or business side, brought a lot to South Lakes soccer and his presence will be missed next season.
"He's a kid you could count on," said Adams. "He really thrived in our program and he will be missed."