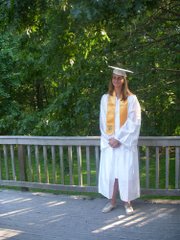 Katherine Yount has come a long way since her first taste of women's varsity soccer. More than three years ago, as a freshman new to the Robinson program, Yount made an impromptu start at goalkeeper against a powerful Lake Braddock team.
"My first game, against Lake Braddock, I was scared," she said, recounting the memory of facing the intimidating Bruins. "Lake Braddock was a really good team, and I just went out there and played my best."
The Bruins took that contest, 1-0, though to no fault of Yount, who made double-digit stops in goal and was "a player of the game," according to head coach Jim Rike.
Then, in her sophomore year, Yount was pressed into the starting role after Robinson's returning keeper elected to have season-ending shoulder surgery. "My sophomore year, the people on the team that had been there were really encouraging to me," said Yount, of the support she received from teammates. "[They] helped me get used to it, because they knew that I wasn't expected to start playing until my junior year. All that experience helped me become the player that I was this year."
That intimidating player she became, helped by those early and unexpected growing pains, dominated opponents and led Robinson to a 20-1 record. In 21 games, Yount made 112 saves and yielded only 12 goals. She also recorded nine shutouts. She capped her season, and high school career, with a 2-1 victory over Battlefield High in the AAA Virginia state championship game.
"She intimidated a lot of teams that we played against, knowing that it would be really hard for them to score, because she was so great in goal," said midfielder Kristen Smith, the only other senior to start for Robinson this season. "Our whole defense felt really comfortable having her behind us, because [we] knew that … if the shot did get through, she would come up big when she needed to."
The story of Yount's career is one of gradual improvement: "In her confidence, technique, and physicality from her sophomore year on," said Rike. "There was a time when I told her she was too quiet, she needed to be more vocal, and I think that's the leadership role she assumed this year as one of the captains."
Yount agreed: "I thought my role was just to make the save and get the ball out of the box. My voice and my leadership are needed."
She figured her role out in time to achieve the school's fifth state title, something Yount termed the ultimate accomplishment.
In addition to playing varsity and club soccer, Yount served for three years as the Class of 2008 treasurer. This year, she took a leadership class offered at Robinson, and she remained involved in leadership through the school's student government until graduation. She will continue her soccer career at William & Mary.