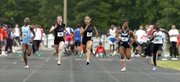 Centreville senior Brittni Finch grabbed two gold medals at the Northern Region Outdoor Track and Field meet at Lake Braddock High School last weekend. Finch won the girls 100-meter dash with a time of 12.37 seconds and followed it up with a win in the 200 dash with a time of 24.85. Finch also added a silver medal in the girls long jump, finishing with a distance of 19 feet 5 inches.
Other notable local finishes include Centreville senior Jordan Grant in the 200 (3rd, 25.50) and 400 (1st, 56.41), Westfield senior Tasia Potasinski in the 800 (1st, 2:10.42) and Westfield senior Brittany Sevachko in the 800 (2nd, 2:18.44).
The Westfield girls 4x400 relay team of Sevachko, Potasinski, sophomore Rachel Hohman and junior Bianca Garrett also took first place at the meet.