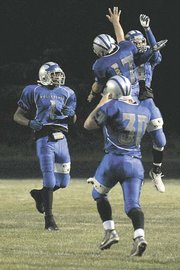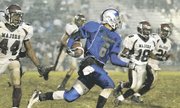 West Potomac wide receiver Kristian Rodriguez didn't want to waste time when his Wolverines took the field for last Friday's Route 1 rivalry matchup with Mount Vernon.
Knowing the rains of Tropical Storm Hanna were fast approaching, making playing conditions difficult, Rodriguez made sure his presence was felt early in the Wolverines' 26-7 victory over the Majors. The senior caught an emphatic 79-yard touchdown reception on his team's first play from scrimmage to give West Potomac (2-0) a lead it would never relinquish.
"I was expecting it," Rodriguez said of the catch. "We usually say first play goes to me so we can see what I can do. I caught it and ran for the touchdown."
The crafty playmaker followed that up with a 75-yard punt return for a touchdown in the fourth quarter, which he punctuated with a Reggie Bush-like flip into the end zone. All this came just a week after Rodriguez had three touchdowns and 113 yards receiving in West Potomac's season opening win over Centreville.
"Give him enough touches, something good is going to happen," said West Potomac coach Erin Henderson, who tabbed Rodriguez as the best wide receiver in the northern region during the preseason.
Afterwards, Rodriguez credited his quarterback, senior Cole Walter, who threw for 226 yards and three touchdowns despite off-and-on rain showers that made conditions less than ideal.
The Wolverines high flying attack, led by Walter and Rodriguez, has now put up 61 points in their first two games, and signaled to the rest of the region they could be an unforeseen force that even a tropical storm can't seem to slow down.
"We're a little Tom Brady-Randy Moss," Rodriguez said Friday night of his connection with Walter before the New England Patriots quarterback went down with a season-ending knee injury. "We've been together since middle school and we always told each other in middle school that we're going to be quarterback and wide receiver senior year playing on this field."
Although the wet conditions didn't seem to affect Rodriguez much, it did cost West Potomac some points in the first half. The Wolverines entered halftime with just a 14-0 lead, which Henderson said should have been more had it not been for some costly drops due to slick footballs and "stupid mistakes", like penalties and fumbled snaps.
Mount Vernon took advantage of one of those miscues after Rodriguez, who also serves as West Potomac's punter, had trouble catching a snap after the Wolverines were stopped on their first possession of the second half.
The muffed punt gave the Majors prime field position, which they capitalized on with a 21-yard touchdown run by junior running back Theo Gee, making the score 14-7. It was the lone bright spot for Mount Vernon (1-1), who had come into the game with high expectations following a week one overtime win over T.C. Williams.
"We have to learn how to win football games and get focused and ready for the next one," Mount Vernon coach Tom Glynn said.
The next game for West Potomac could prove to be a pivotal one. The Wolverines face off against unbeaten Yorktown, a school that features its own dynamic playmaker in senior Kyle Toulouse. Both teams are off to surprising 2-0 starts.
"Yorktown is a pretty good team," Henderson said. "That Toulouse kid is pretty good so we're going to have to figure out some things for him."
From the looks of things, Yorktown will have to do the same for Rodriguez.