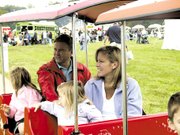 Enjoy the best that fall has to offer at the 16th annual Fall for Fairfax KidsFest festival, Saturday, Oct. 4 from 9 a.m. to 6 p.m., at the Fairfax County Government Center.
Northern Virginia's largest fall family festival includes more than 100 interactive exhibits, activities and programs focusing on education, sport and fitness, the environment, public safety, and personal health.
Programs at Fall for Fairfax KidsFest include:
v Fun-filled seasonal activities like scarecrow making, hayrides presented by Washington Gas, and pumpkin painting.
v The Inova Arcade of Health, with interactive health-related activities that are both fun and educational.
v More than a dozen performances on two festival stages geared specifically to elementary school and toddler-aged children, led by popular children's performers Alex and The Kaleidoscope Band and Reptiles Alive.
v Interactive programs for children of all ages, including a petting zoo, model trains exhibit, rides on the Fall for Fairfax Train presented by MITRE, pony rides, kids crafts activities and much more.
v Located in front of the Government Center Building are two new areas: Safety Island and Green Land. Safety Island features: Fire and Rescue and Police vehicles on display; a police helicopter; and the Convincer, which teaches the importance of wearing a seatbelt. Highlights from Green Land include: the scrap exchange where kids make crafts out of recycled textiles and materials; and great activities including: making sand art, puppets, rain gauges and puzzles; and games that teach the importance of living in a green world. Inside the Government Center, the Sheriffs Office will help parents create child ID cards.
v Active fun in the all new KidWay MidWay carnival ride area, and the KidZone, which features half a dozen inflatable bounces and slides and also a Kids Climbing Wall.
v Plus a great Farmers' Market.
Produced by Celebrate Fairfax Inc. (producer of the annual Celebrate Fairfax! Festival), Fall for Fairfax KidsFest is free to attend; all entertainment and most programs are also free of charge. Some activities do have a minimal charge to participants.
Parking is plentiful at the Fairfax County Government Center and free shuttle bus service is provided from the Vienna Metro Station (Orange Line) to the festival grounds every hour beginning at 9:30 a.m. For the safety and comfort of all guests, no pets are permitted at the festival.
Visit www.fallforfairfax.com or call 703-324-FAIR (3247).