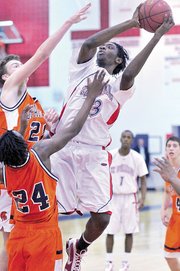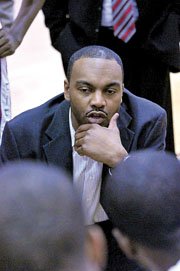 T.C. Williams senior Billy Rowland called Friday's 64-35 win over West Springfield at The Garden "perfect," saying the Titans needed a confidence boost after their season-opening loss to Hayfield. Fellow senior Ryan Yates spoke highly of the Titans' defensive effort as they limited the Spartans to one first-quarter point. Head coach Julian King was pleased with the performance of his go-to players and the 19-1 lead they produced.
But that's where the happiness ended for King, who wanted to see more from his younger players coming off the bench. After opening an 18-point lead in the first quarter, the Titans were outscored in the second quarter and didn't pull away until midway through the third.
"Did we learn anything form [the win]? I'm not quite sure," King said. "It may seem as though things come a little too easy for us right now. The group that I have, being young and inexperienced, we need to really relish the moment and realize every night we have to work to get better if our goal is to try to contend for a district title. I was really pleased with my top seven, top eight players. But my second unit, I'm a little disappointed because they didn't maintain the intensity, they didn't maintain the focus. You could tell.
"Once we get a sizeable lead, I feel as though if you're a young guy coming off the bench, you should be going 110 miles per hour, especially on defense where you can stay in the game. I shouldn't have to insert my starters in periodically to keep the score out of reach."
A Yates 3-pointer gave T.C. Williams a 19-1 lead at the end of the first quarter. West Springfield responded by scoring nine of the first 11 points of the second quarter to cut the lead to 21-10. The Titans didn't score their second field goal of the quarter until the 3:44 mark, when a 3-pointer by Tayron Chambers gave T.C. Williams a 24-10 lead. The bucket sparked an 11-2 Titans run, including six points by Cortez Taylor, but West Springfield scored the final four points of the half.
A 10-0 run midway through the third quarter gave T.C. Williams a 44-19 advantage and the Titans led by at least 21 the rest of the game.
Rowland finished with a team-high 17 points and Yates added 13. No other Titan was in double figures. King would like to see more players get involved.
"I want us to take the next step as a team and say, 'Hey, you know what? We just have to come with our hard hats every night and be prepared to work. … We're a blue-collar team. We don't have any spectacular individual players, but collectively we can be good and I'm trying to get everybody to buy into that. Some of the younger guys, I think they have a felling if we're struggling the older guys will pull us through. … I'm trying to build a team not based around one or two players — Ryan Yates and Billy Rowland — I'm trying to build a team we can go nine or 10 deep."
Regardless, the Titans are in the win column after opening the season with a 57-49 at Hayfield on Dec. 8. T.C. Williams hasn't lost more than five games in each of the last four seasons, during which the Titans have not lost a Patriot District contest.
"I was hurt," Yates said of the loss.
"This is only my second year here," said Rowland, who transferred from Bishop Ireton, "and I felt just as bad as [Yates] did."
Taylor scored eight points against West Springfield and Rick Mathews added seven.
T.C. Williams hosts Annandale at 7:45 p.m. Friday.