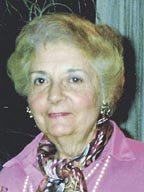 Dorothy I. Herberg, 85, a homemaker, died on Jan. 12, 2009, at Virginia Hospital Center. She had broken her hip 10 days earlier, and although the surgery was a success, she was unable to recover from the trauma.
Mrs. Herberg was born to Thomas and Susan Mount Intile in Irvington, N.J. As a premature infant born nine weeks early and weighing just two pounds, she was not expected to survive. Insisting "Where there is life there is hope," Thomas Intile used sterile cotton to hand-craft tiny clothes for baby Dorothy and helped nurse her to health. Due to the excellent care she received as well as her tremendous will, Dorothy not only survived but thrived in everything she did in life.
Dorothy was a precocious child who graduated near the top of her class at Irvington High School. Although she wanted to become an attorney, her father told her that wasn't for women, so she attended business school where she excelled. After graduating, she worked at the Army recruiting station at 39 Whitehall Street in Manhattan, where she was the general's "right hand man."
Following the end of World War II, Dorothy Intile married Captain Irwin Herberg, a decorated war hero, in July 1946. They had four children: Richard Herberg (wife Sandra) of Charlotte, N.C.; Donna Wittenberg of Fairfax, Va.; Craig Herberg (wife Suzanne) of Fairfax, Va.; and Sara Kukla (husband Jim) of Chantilly, Va.
In 1953, the Herbergs moved to Arlington, Va., where Dorothy resided until her death. Although Dorothy was a "stay-at-home" mom, she was very active in the community. She choreographed several local winning political campaigns, played a significant role in numerous fund-raisers for local charities in her position on the Junior Chamber of Commerce Aids, and led a Girl Scout troop for many years. In the late 1950s, she took the helm of a relative's business when it was failing, and ran D. I. Herberg, Inc., for several years from home. She proved to be an astute business woman and returned the company to profitability while accepting no pay for her efforts.
When Irwin Herberg was diagnosed with cancer in 1970, Dorothy remained by his side, caring for him until his death in 1976. The family matriarch, Dorothy Herberg, was overjoyed by the birth of each of her six grandchildren: Rachel and Gregory Herberg of Charlotte, N.C.; Jeremiah and Timothy Herberg of Fairfax, Va.; and Kristen and Katelyn Kukla of Chantilly, Va.
Dorothy Herberg enjoyed duck pin bowling and contract bridge with the Williamsburg Women's Club in Arlington, Va., where she served as treasurer for many years. Her true joy was spending time with family at frequent dinners and especially at the shore.
In addition to her four children and six grandchildren, Dorothy Herberg is survived by her sister, Barbara Kyle (husband James) of McLean, Va., and by numerous cousins, nieces and nephews scattered around the country from Vermont to Florida, Nevada and Utah.
On Jan. 16, 2009, Father Lee Roos officiated a Funeral Mass at St. Agnes Catholic Church in Arlington, Va., celebrating the life of this beloved mother, grandmother, sister, daughter, and friend.