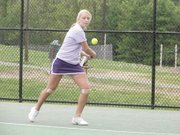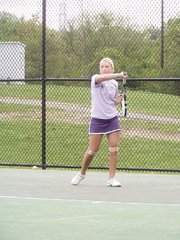 Those two white strips of athletic tape under Shannon Allin's kneecaps could be attributed to soreness. If anyone ever asked, the sophomore tennis player at Lake Braddock would say exactly that. It was a rough match. Her legs are tired. End of story.
But after a singles match loss to Katie Kim of Hayfield on Friday, April 24, Allin was not only beaten but stumped. No longer could the Endura bandages on her knees explain the tears running down her face. She was caught and she knew it.
Allin has polyarticular juvenile rheumatoid arthritis, or JRA, and those bandages help her to play tennis. As a seventh-grader, Allin was diagnosed with the disease in January 2006 and it flared up worse than ever during that match against Kim. The sophomore knew her teammates would have questions and forced herself to come clean.
"I didn't want to be different from my teammates and by me telling them that I was different, they would see that as opposed to, 'She just pulled something at practice, and she has to tape her knees up,'" Allin said.
"It was really bad," Allin said. "It hurt so much that you couldn't feel it anymore. But your tears come instead, and that's what I was doing between points. I was trying to calm myself and not let it affect me. But that failed. I was thinking about the pain, and I couldn't really get my mind around it."
The pain, according to Allin, feels like she's rubbing her knee with the scratchy side of a piece of Velcro and trying to bend her knee while it's still immobilized. That unwanted prickly feeling invades her ankles, wrists, feet, elbows and knees.
JRA is an autoimmune disorder that affects over 46 million Americans, 300,000 of whom are children. It is often contracted when the body is busy fighting another virus and the immune system goes haywire. Caught early enough, it's common for JRA to disappear as its bearer nears adulthood. In cases like Allin's, in which a diagnoses is made in the later stages of childhood, the disease can be lifelong.
<b>WHEN ASKED</b> how she manages to deal with the disease on a day-to-day basis, Allin, who performs a daily workout routine with Lake Braddock's athletic training staff, let another one slip.
"I can't do as much there because they have more kids walking around," said Allin, as if she wasn't one of those walking around, too. "It's shortened and it's less work."
So every Saturday at 7:30 a.m., before a single text message is sent or a Facebook page is updated, Allin heads to physical therapy, running through her full list of stretches, lunges, leg lifts and various stepping exercises.
Allin does this because her kneecaps shift out of place when she plays tennis, which is the result of weakened Iliotibial Bands (IT) or the thick fibrous tissue that runs along the outside of the leg. With physical therapy, Allin hopes to strength the inside of her legs to a point where her body, instinctively, will keep the kneecap centered.
"She has to do the exercises that she's supposed to do," said Barbara Allin, Shannon's mother. "There aren't exceptions. There's no, 'I'm too tired.'"
Shannon Allin also has to limit the amount of "crap" she eats, which can be best described as anything that a teenager would like — no Doritos, Twinkies or Milky Ways. Needing potassium and protein, she instead eats a lot of fish, chicken and fruit. After dinner, Shannon Allin can't be a night owl. She needs about eight hours of sleep per night to keep the disease in check.
<b>STANDING ON</b> the backline of a tennis court, Shannon Allin must judge whether she's going to be able to play that shot her opponent sent over the net because, even though she could probably get there, 20 minutes later the tears might start flowing.
Assuming Lake Braddock's top singles slot in only her second year on the team, Shannon Allin has been impressive on the tennis court thus far. Her 5-8 record this season doesn't exactly warrant an All-State examination, but, as Bruins head coach Susan Wells pointed out, she's still only a sophomore playing against the Patriot District's most talented players.
On days where Shannon Allin can't continue or if Lake Braddock already has the match won, Wells will take her out of the No. 1 doubles pairing, instructing No. 7 player Nadia Laher to play with Shannon Allin's partner, No. 2 singles player Chelsey Lane, instead.
Tennis has become a way of dealing with JRA for Shannon Allin, who originally saw herself as a prolific dancer but had to give it up because it was too hard on her joints. Though she grew up in a tennis-oriented family, Shannon Allin never saw herself as a lifelong tennis player. Now, it's all she wants to do.
"She really tries not to let people know how much pain she's in," said Wells, whose team was 13-1 this season, splitting its district title with South County. "Even though it's painful, I truly believe that right now that tennis is an outlet for her to spend some time doing something that she enjoys … and that she's very good at."