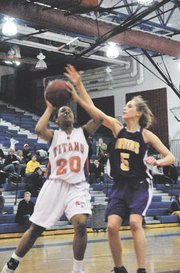 Rainie Summa couldn't make a shot. Jasmine Norman couldn't catch her breath. Luckily for the T.C. Williams girls basketball team, Lake Braddock wasn't in much better form.
In a battle of two teams showing rust from a nearly month-long inclement weather-induced layoff, T.C. Williams on Tuesday came out strong in the second half and pulled out a 47-40 win over Lake Braddock at The Garden.
After trailing by one at halftime, the Titans outscored the Bruins 13-2 in the third quarter as part of an 18-2 run to open the second half. T.C. Williams led by as many as 15 in the fourth quarter.
"I just wanted to get back in the gym so bad," Norman said. "[I had an] itch to play."
While the win is a positive for T.C. Williams, just getting the chance to play again, especially in a non-pressure situation, will benefit the Titans most. Snowstorms in the Washington, D.C. metro area during recent months led to several game postponements. It was planned last week that postponed regular season games would be cancelled for Patriot District teams, and the district tournament would start when weather allowed teams to return to the court. But later it was decided Patriot teams would make up two regular seasons games before the district tourney.
This way, the Titans — and all other Patriot District teams — received two chances to rid themselves of rust prior to the postseason.
"It's been a lot of ups and downs because one day it's this and the next it's changed," T.C. Williams head coach Cavanaugh Hagen said. "We've done a pretty good job adjusting to it. I was excited because I knew that our girls needed and wanted two more games just, if anything, as extra practice going into the tournament."
Rust was evident early as T.C. Williams, after taking a 4-0 lead, went scoreless for the next 5 minutes, 37 seconds. The Titans bricked shots and turned the ball over as the Bruins scored 11 straight points.
"It was so tiring," Norman said. "At first I couldn't even breathe."
Summa, one of the Titans' top perimeter threats, couldn't buy a bucket — inside or from the perimeter. She finished with four points.
"You're surprised about how winded you get early on," Summa said. "… At practice [Monday] I couldn't miss a jump shot and today I got out there and I could never make a jump shot."
Lake Braddock led 23-22 at halftime.
"Of course you're going to be rusty if you haven't played in a month," Hagen said, "so we were just hoping the rust didn't go all game."
After Norman scored on a putback to give T.C. Williams a 28-23 third quarter lead, Cara Weidinger scored Lake Braddock's only points of the period to cut the advantage to three. From there, Norman and T.C. sophomore point guard Sofie Schedler helped spark the Titans. Schedler knocked down a 3-pointer to put T.C. ahead 31-25 and moments later threw a pass from halfcourt to Norman, who was standing under the basket and laid the ball in. Summa later scored a transition basket for her first points of the night, giving the Titans a 35-25 lead entering the fourth quarter.
Sade' Barber finished with seven points for the Titans and Schedler had six.
The Titans hosted South County on Wednesday. Results were not available before the Gazette Packet's deadline.
THE T.C. BOYS DEFEATED Lake Braddock upon its return to the court, winning 54-29 on Tuesday. Ryan Yates led the way with 19 points.
With the loss of ineligible players Billy Rowland and Darrius Porter, head coach Julian King wanted to take advantage of the limited number of regular season games remaining in order to gauge what his team needed to work on. He was disappointed last week when he was told Patriot teams would not make up any regular season games.
He was pleased when things changed.
"I was happy, relieved that they would give these kids a chance to play," King said. "As long as time permits, and even if the district tournament is pushed back, [it's nice to] get a few games in before the tournament."
The Titans traveled to take on South County on Wednesday. Results were not available before the Gazette Packet's deadline.
The Patriot District tournament starts Friday, with the top four seeds hosting. Saturday's semifinal round and Monday's championship games will be played at T.C. Williams.