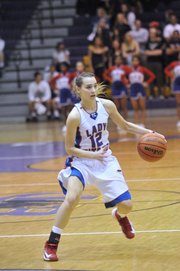 Burke — The T.C. Williams girls' basketball program reached the Patriot District championship game in 2011 and 2012, only to fall short each year against West Springfield.
This season, the Titans finally solved the Spartans, beating West Springfield twice during the regular season. However, TC lost twice to Lake Braddock and ended up sliding to the No. 3 seed in the district tournament.
On Feb. 13, TC finally figured out Lake Braddock, beating the Bruins in the semifinals. Two days later, all that stood between the Titans and their first district title since 2009 was the Woodson Cavaliers — and TC played like a team ready to seize its opportunity.
T.C. Williams defeated Woodson 58-35 to win the Patriot District championship on Feb. 15 at Lake Braddock Secondary School. The Titans outscored the Cavaliers 19-2 in the second quarter en route to a 22-point halftime lead. TC led by at least 12 for the remainder of the contest, ending West Springfield's three-year run atop the district.
"It's about time," TC junior Angie Schedler said.
Senior guard Christian Roberts spent four seasons on the TC varsity and said coming up short in the past made Friday's victory that much sweeter.
"We tried so hard [for] four years — we haven't won it since 2009," Roberts said, "so to win it my senior year is a great experience for me and my team because we worked hard to get here."
"It's about time."

— T.C. Williams junior Angie Schedler
One of the Titans' biggest concerns was Woodson guard Keara Finnerty. The senior scored 40 points and made 8 of 11 3-point attempts during a victory against West Springfield in the semifinals on Feb. 13. Schedler matched up against Finnerty and helped limit the sharpshooter to 10 points and just two field goals.
"After Finnerty's performance [against West Springfield] and playing her before, we know what type of player she is," TC head coach Kesha Walton said. "Our goal was for Angie not to even let her breathe, not even let her touch the ball at all. She did a phenomenal job."
Schedler's success wasn't limited to the defensive end. She also scored 14 points, all in the first half, including four 3-pointers. Schedler's second shot from behind the arc gave the Titans a 15-10 lead at the end of the first quarter.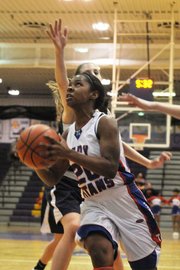 TC led 34-12 at halftime, but Woodson started to chip away and eventually pulled within 12 when Anna Walker converted a three-point play with less than a second remaining in the third quarter, cutting the Titans' lead to 41-29. But the Cavaliers would get no closer as sophomore guard Rejoice Spivey led TC to victory. Spivey finished with a game-high 29 points, including 13 in the fourth quarter.
"They went on their run, [so] we just had to go on a run ourselves," Spivey said. "We had to focus and get back to what we were doing in the first half and we did that."
Spivey was named tournament MVP. According to stats from the Washington Post's Web site, Spivey scored 30 points against Lake Braddock in the semifinals on Feb. 13 and 13 against West Potomac in the quarterfinals on Feb. 12.
"She played amazing," Walton said. "She got after it, she really wanted it bad, you could tell. She's very aggressive; she basically [grew] into our leader, getting us through the tournament."
Roberts scored seven points for TC. Grace Patterson finished with four points and Baylee Simpson and Megan Laychak each had two.
"I feel so happy," Simpson said. "I want to cry, but the tears, they can't come out."
Roberts and Simpson were named to the all-tournament team, along with Finnerty, Woodson's Madeline Nguyen, West Springfield's Amy Berglund and Lake Braddock's Natalie Butler.
TC followed the district title by beating Washington-Lee, the No. 4 seed from the National District, in the Northern Region tournament on Feb. 18. The Titans' season came to an end with a loss to Oakton (C2) in the regional quarterfinals on Feb. 19.