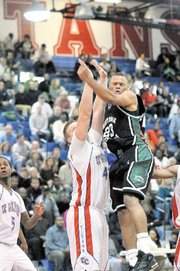 The T.C. Williams boys basketball team had its 80-game Patriot District win streak snapped in early February when the Titans had to forfeit 12 wins due to the use of two ineligible players. On Friday, T.C. suffered its first on-court loss to a district opponent since the 2004-05 campaign.
The loss ended their season.
No. 7 T.C. Williams lost to No. 2 Annandale 51-48 during the opening round of the Patriot District tournament at Annandale. Tyrell Sitton led the Titans with 13 points while Tayron Chambers added 10. Ryan Yates finished with seven.
"It's very disappointing," T.C. Williams head coach Julian King said. "Unexpected and disappointing."
While having their record transform from 12-3 to 0-15 after the forfeits was disappointing, the Titans knew they still had a chance if they could regroup before the district tournament. T.C. Williams (3-16) won its final three regular season games — West Springfield, Lake Braddock and top-seed South County — that weren't cancelled due to snow and improved from the No. 8 seed in the district tournament to the No. 7. But in the end, the loss of 6-foot-6 post Billy Rowland, the team's leading scorer, and 6-foot-4 forward Darrius Porter to ineligibility — along with the loss of 6-foot-4 Jamal Pullen due to academic ineligibility — was too much to overcome.
"Losing those three guys, you're losing a total of almost 30 points [per game]," King said. "On any high school team that's tough to replace all of the sudden. Not only is it that hard to replace but that shifted the rotation of our players."
Sophomore point guard Daquan Kerman, junior forward T.J. Huggins, junior center Jay Whitmire and junior forward Sitton, among others, are slated to return next season. King said experiencing adversity should help put things into perspective for next year's team.
"We can only go up," he said. "We're at the bottom of the barrel now. … [Hopefully] the young guys who are still around, they won't take things for granted. … There's no reason we can't climb the ladder again. … Nothing is wrong [with our basketball system]. Our season was affected by an outside force."
King, a teacher at Blessed Sacrament in Washington D.C., said he plans to return as head coach of the Titans next season. He said working in the T.C. Williams building next school year would help him with his duties as head coach.
"I have to sit down and talk to some people and make sure I'm going to have the support I need," King said. "In my eyes, this is an elite public school program and to keep it elite there are certain things we're going to have to have in place."
While the season ended on a down note, King said he was pleased with the effort his players showed.
"For whatever people say, the way our kids responded to all the adversity, I couldn't be any prouder and the community should be proud too," King said, "because these kids could have easily tucked their tails and gave up."
<b>Girls Lose to Woodson</b>
T.C. Williams girls basketball coach Cavanaugh Hagen and junior guard Rainie Summa described the Titans' effort against Woodson on Friday as one of the team's best this season. But it wasn't enough to keep their season alive as the No. 4 Cavaliers beat the No. 5 Titans 60-54 during the opening round of the Patriot District tournament at Woodson.
Jasmine Norman led T.C. Williams with 25 points and Charnelle Huggins added 12.
"The kids played as hard as they have all year," Hagen said.
Said Summa: "That was the best game I think we played the whole year."
T.C. Williams kept the game close, but missed layups and free throws once again hurt the Titans, Hagen said.
After finishing 24-6 and reaching the state tournament during the 2008-09 season, Hagen's first as head coach, the Titans struggled during the 2009-10 campaign after losing four starters, including All-American Tierra Ruffin-Pratt. T.C. Williams finished 6-14 while struggling to establish consistency.
"As a whole, I'm looking at it as it was a rebuilding year," Hagen said. "The number of talented players that we did lose … was a big blow. Our kids this year realized how important they were to the program and those were big shoes to fill."
Junior forward Norman, junior guards Summa and Sade' Barber and sophomore guard Sofie Schedler, among others, are slated to return next season. Hagen, who said she plans on returning as head coach, said the Titans need to step up by working in the weight room and working on their game during the offseason.
Summa said the team should learn from its losses.
"Personally, I learned you can't force the game of basketball," she said. "If you go out there and you're worried about your numbers … you're going to do awful. Let the game come to you. … You win some and you lose some. You can't get too [down]."