After dropping the season opener at West Springfield by a slim two-goal margin, Yorktown girls' lacrosse head coach Crystal Morgan said the Patriots wanted to show the Northern Region they could compete outside of the National District.
With all six of its regular-season non-district games in the books, Morgan hopes Yorktown made a reasonable case.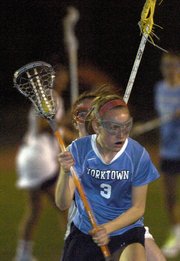 The Patriots entered spring break with a 4-3 record, including 3-3 against opponents outside of the district. Yorktown's three losses came against teams that started the season with a combined record of 13-2, with two of the Patriots' losses coming by two goals or less.
After losing to West Springfield 12-10 on March 12, Yorktown lost a lopsided contest against Centreville, 19-5. The Patriots then won their district opener against Mount Vernon before losing to South Lakes by one goal on March 20. Morgan wrote in an email that several starters were forced to sit out during the first half of the South Lakes game due to missing practice for various reasons. When the starters entered the game, Yorktown couldn't quite catch up, losing 12-11.
Centreville started the season 5-0, while West Springfield and South Lakes each began the year 4-1.
Yorktown would bounce back from the 1-3 start, beating McLean (19-12) on March 22, Chantilly (13-11) on March 26 and Herndon (14-7) on March 28. Yorktown was also missing starters during the first half against Chantilly, a program that beat the Patriots 15-1 last season.
"With the South Lakes game, we struggled by missing those players, and we just couldn't catch up once they were put in the game," Morgan wrote. "But I was so proud of how we played during the Chantilly game, even with missing a handful of our starters, and especially proud of my typically non-starters who helped us keep the lead the entire game. I hope this has shown the region that we are contenders!"
Jennie Basile has been Yorktown's most productive offensive player. The junior midfielder leads the Patriots with 18 goals, 10 assists and 17 draw controls. Sophomore Emily Spack has scored 13 goals, while junior Meaghan Galvin leads the team with 23 ground balls and eight knock downs/interceptions. She also has 12 goals, six assists and 11 draw controls. Senior captains Ella Richardson and Maddy Ernesto, and freshman Kristen Somers each have eight goals.
Senior captain Rachel Kappel and junior Sarah Acs have combined for 10 knockdowns/interceptions as defenders.
Morgan called freshman goalkeeper Erin Morrissey an "asset."
Yorktown returns to action on April 10 against Falls Church. The Patriots have won six consecutive National District championships and opened district play this season with a 15-1 victory against Mount Vernon on March 16.
"This is when things start to really count," Morgan wrote. "We are working hard toward another district title, and we know it won't come easy. We're ready for the challenge, though!"
— Jon Roetman