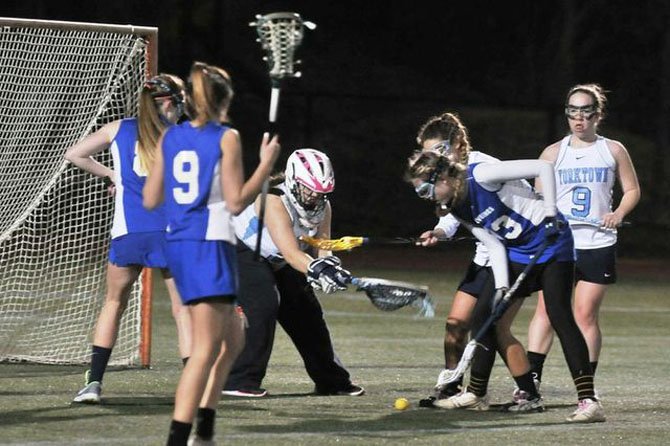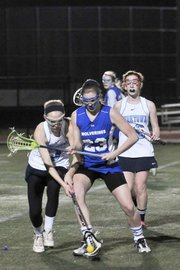 Arlington — The West Potomac girls' lacrosse program reached the Northern Region quarterfinals last season, leading to heightened expectations for this year's campaign.
The Wolverines opened the 2013 season with a strong start on Monday night, jumping out to a 3-0 lead against Yorktown and building a 10-6 advantage in the second half.
After the game, head coach Lori Cochran said she would like the Wolverines to advance further than the region quarterfinals this year. While West Potomac still has plenty of time to work toward that goal, the 2013 season began with a learning experience.
West Potomac squandered a four-goal lead in the final 16 minutes and lost to Yorktown 12-11 on Monday night at Greenbrier Stadium in Arlington. The Wolverines defeated the Patriots in the opening round of last year's region tournament and took a 10-6 lead on Monday night when senior attack Paige Roddey scored with 15:59 remaining in the contest. But Yorktown scored six of the final seven goals, including the game-winner by sophomore Kristen Somers with 1:25 remaining.
Freshman Sarah Jones scored West Potomac's final goal with 7:31 left in the game.
"I thought we played very well," Cochran said. "For a first game, I thought we looked very strong. There's not one player that shines. Everybody's equally skilled and that's very clear if you look at the scores. I think our problem was is that when we're ahead by two and you're playing a tough game, it's like basketball — you've got to burn the clock a little bit and we were making some silly passes down there and we should have been holding the ball."
"The pressure's definitely on because now we've raised the bar and we want to stay there."

— West Potomac girls' lacrosse coach Lori Cochran
Senior midfielder Karley Zdebski led West Potomac with three goals. Roddey, junior Isabel Botha and senior Nicole Farino each had two goals, and Jones and junior Jordyn Elliott each had one.
Senior midfielder Jennie Basile led Yorktown with four goals.
West Potomac traveled to face McLean on Wednesday, after The Gazette's deadline. The Wolverines will host Edison at 7:15 p.m. on Monday, March 18.
In 2012, West Potomac finished the season with a 9-6 record. The Wolverines earned a top-four seed in the Patriot District tournament and defeated Annandale in the quarterfinals to earn a region berth. After losing to Lake Braddock in the district semifinals, West Potomac defeated Yorktown in the opening round of regionals before falling to Centreville.
"The pressure's definitely on because now we've raised the bar and we want to stay there," Cochran said. "I thought our defense looked great. They're really communicating well. I feel very solid. I've got my youngsters up on attack and we just need to work the ball a little bit stronger around the net."