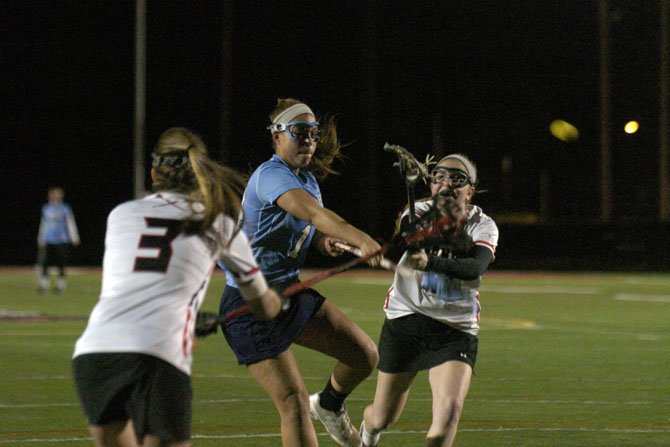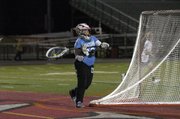 Yorktown assistant girls' lacrosse coach Kristin Daus wasn't pleased with the expressions on the faces of the Patriots during halftime of a March 14 scrimmage at Herndon High School — and she let them know about it.
"They didn't look like their normal selves," head coach Crystal Fraser recalled. "They kind of looked defeated a little bit and we wanted to [tell them] you can't go back to the second half looking defeated or you might as well not play. Your confidence is going to be down, your emotions are going to be all over the place, so we just need to make sure they stayed calm and collected and got pumped up again … and that they had the confidence they could come back and win."
Yorktown responded well in the second half of the scrimmage. Once the Conference 6 tournament arrives in mid-May, the Patriots will need to be on top of their game, as well.
The Yorktown girls' lacrosse team dominated the National District for most of the last decade, winning eight consecutive district championships. But the Patriots' days of taking titles against overmatched teams are over as Yorktown is now a member of Conference 6 after the VHSL's six-class re-alignment. Instead of facing inferior competition, the Patriots will take on teams like Madison (defending state champion) and Langley (state runner-up last two years) in the conference tournament.
Conference 6 is composed of Yorktown, Washington-Lee, Hayfield, Madison, Langley, McLean, South Lakes and Fairfax.
"People might think that we're a weaker team coming into this conference, but I think that we're very capable of showing them that we're a contender."

— Yorktown girls' lacrosse coach Crystal Fraser
"Everything's new to us this year and we're definitely aware that we're playing in a very tough conference with Madison, Langley and all the other schools that we're going to be playing," Fraser said. "But we're really excited for the challenge and I think that playing excellent teams like those teams is going to help make us better.
"… People might think that we're a weaker team coming into this conference, but I think that we're very capable of showing them that we're a contender."
Junior goalkeeper Erin Morrissey said playing in Conference 6 will be a positive for Yorktown.
"It helps," Morrissey said, "because, after eight district titles, it gives us something to shoot higher for."
Morrissey enters her third season as Yorktown's starting goalkeeper and has impressed her head coach during preseason scrimmages.
"She is amazing this year," Fraser said. "She started off our scrimmage against West Springfield [on March 10] and has played better than I've ever seen her play. … She's worked really hard in the offseason to get where she is right now and we're excited to see her flourish."
Junior midfielder/attacker Kristen Somers, a three-year varsity athlete who is committed to VCU, is Yorktown's top offensive threat.
"Everything can be crazy out on the field and hectic and things happening all over the place and she is always so calm on the field," Fraser said. "She never gets razzed or frazzled or anything. She always has a very calm presence with her and I think that really helps and kind of rubs off on the rest of the team. … She's an amazing shooter. … She's always been a really clutch player for us."
Senior Emily Spack (attack/midfield), junior Margaret Doyle (attack/midfield) and sophomores Kate Grattan (attack), Emma Thurman (midfield), and Sissy Davis (midfield) are also prominent players.
Spack, and senior defenders Kristin Herbert, Gracie Conyngham and Melissa Land are team captains.
Yorktown's home opener will be against Mount Vernon at 7:30 p.m. on Thursday, March 20.
The Conference 6 tournament begins on May 15.
"We like being the underdog," Somers said." … There's nothing to lose."